Cavalieri On Top At CRCRC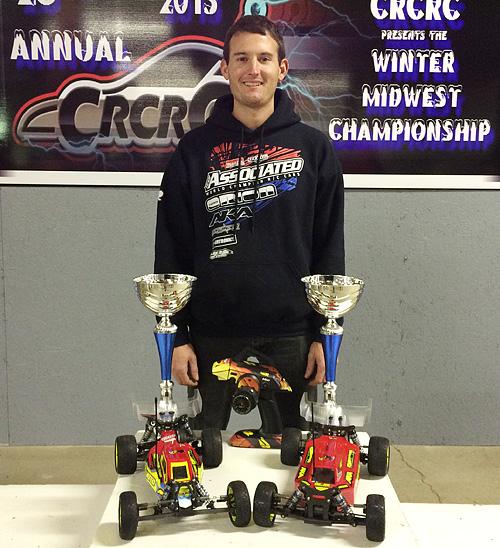 For the 28th running of the CRCRC Electric Winter Midwest Championships Team Associated traveled to The Ohio RC Factory in Jeffersonville, OH, about 30 minutes south of Columbus. Organized by the CRCRC club, the event is one of the longest running and most popular events in the nation. With close to 500 entries, racers from all over the area attended to see how they stacked up against some of the best in the world.

In the 2WD Modified class, Team Associated's Ryan Cavalieri capitalized on his second-place starting position to pace Top Qualifier Jared Tebo throughout the main events. Sharing similar speed and lap times with Tebo, it came down to a clean 7 minutes throughout the triple A mains. With wins in A2 and A3, Cavalieri showed the racing strategy he's become famous for, taking the overall win with his B5M buggy.

In the 4WD Modified class, the results were the same, with Cavalieri taking the wins in A1 and A2 with his B44.3 Factory Team buggy. The highlight was a pass for the lead at the video's 3:30 mark in A2 on "the wall" that no one saw coming. With blistering speed that saw competitors get lapped multiple times, "RC" left the field in the dust.

Team Associated vehicles also won the 2WD Stock Buggy and 2WD Stock Short Course classes in the hands of Rudy Rico driving his B5M and SC10.2.

A big thanks goes out to the CRCRC club, The Ohio RC Factory and all the racers for continuing to support an event with great traditions.
---
Videos
---