Double victory for Team Associated and Reedy at the Danish National Series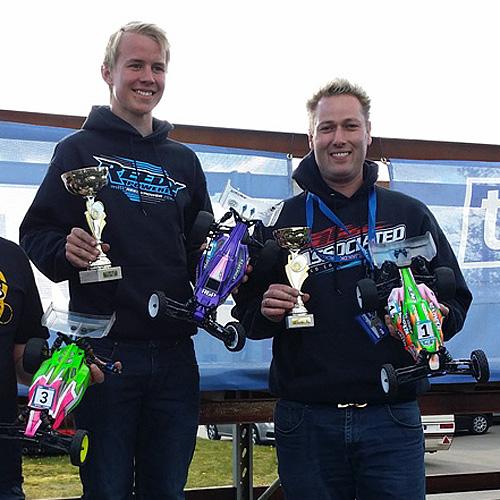 The first round of the DRCMU Danish National Series was held at the RC Kongen hobby shop. RC Kongen is the new distributor for Team Associated and Reedy products in Denmark. The race couldn't have been better timed, coming just days after the announcement. A double victory at the new on-site outdoor carpet track for Team Associated's very own Scandinavian junior was a perfect start.

Team Associated / Reedy team drivers Jonas Kaerup and Jesper Rasmussen set the early race pace. A hot and sunny race day on the large carpet track provided great conditions for all the drivers. It was a fantastic day to kickstart the outdoor summer racing and the start of the Danish Nationals.

Jonas Kaerup was off to a flying start in qualifying and took TQ at his home track, just managing to hold off his junior teammate Jesper in qualifying. In the finals it was youth that prevailed and the more consistent Jesper Rasmussen took the victory in front of Jonas Kaerup. Six B5Ms made the A Final and showed great performance with positions 1, 2, 4, 5, 6, and 7.

In 4WD it was the 2014 champion Jesper Rasmussen who was fastest in qualifying with his B44.3. 7-year-old baby boot camp driver Marcus Kaerup (son of Jonas) made his first 4WD Modified A Final in fifth spot on the grid. What a performance by the young, up-and-coming super-star.

In the finals Jesper had a great battle with Team C driver Jan Larsen. Jesper won legs 2 and 3 of the finals to secure the victory. Youngster Kaerup switched his fifth place starting position for a third place podium finish in the finals, again a super strong performance!

Well done to everybody for the great effort and support.
Products mentioned:
#9063 Factory Team B44.3
#90003 RC10B5M Team Kit
Setup sheets:
---