Kyle McBride takes Queensland State Championships with his RC8B3
Tuesday, Jul 28, 2015 at 12:00am CDT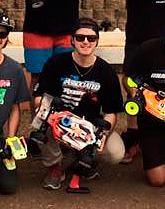 This past weekend one of my home tracks - Pine Hills Dirt Racing (PHDR) - held the 2015 Queensland State Championships. The track layout for the event was large and extremely high speed, and when dried out, very high grip.

We started off the event with two rounds of practice and two rounds of qualifying on Friday. My RC8B3 Team Kit was running amazingly well in the first two practices, and I continued to make setup changes to gain even more speed out of my car for qualifying. The weather wasn't kind to us on the first day and we ended up with a few rain showers, which dropped the grip on the track and made it quite slimy. After a change of tires, I TQ'd both of the qualifiers for that day and was extremely pleased with my car.

On day two we had four more qualifying runs in the books with only a total of five qualifiers to be run for this event. This morning started off a little overcast but then the sun came out, the track began to dry, and the grip came up quickly. We changed the tires two more times as the track dried out and we had to change our setup at the same time. But we managed to comfortably TQ the final four rounds to get the overall Top Qualifier.

The top 10 qualifiers went straight into the A Final, so on Sunday we had one 10-minute practice and went straight into the 45-minute final. By now the heat had really come up and the track was getting faster and faster.

By the time our final came around the clouds came over and the temperature dropped. I started off the final with a clean start and went on to have a smooth race with no mistakes over the 45 minutes and took the championship by over two laps of the entire field. My RC8B3 was the best it has ever felt.

Thanks to Kyle McBride for this report.
---