Rivkin Roars to an IFMAR 2WD Off-Road World Championship Title!
Tuesday, Oct 6, 2015 at 12:00am CDT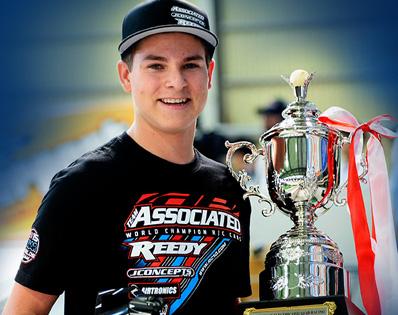 Team Associated / Reedy driver Spencer Rivkin boldly announced his presence at his first-ever I.F.M.A.R. world championships in style . . . by WINNING!
Spencer used his modified Team Associated B5M powered by Reedy electronics to take on an unfamiliar, high-traction, AstroTurf track surface at Yatabe Arena in Japan. The competition was high, with all the best drivers in the world vying for the title of World Champion. At the age of 16, Spencer looked like a veteran, driving fast and consistent to finish at the top of the podium for the 2015 I.F.M.A.R. 2WD Off-Road World Championships.
With the Team Associated B5Ms modified to keep the center of gravity as low as possible and using the ultra-smooth FOX® Shocks with genuine Kashima coat to tame the rubber rumble strips on track, the drivers used the engineering advantages that Team Associated's Area 51 provided for the race.
Also making the A Main for Team Associated were: Ryan Cavalieri finishing on the podium in 3rd, Neil Cragg finishing 4th, and Kody Numendahl finishing 8th.
Spencer's victory adds to the Team Associated total of I.F.M.A.R. World Championships, which now stands at an unparalleled 28! Perhaps even more impressive is that with this win, EVERY version of Team Associated's long lineage of 2WD cars has now won at least one world championship title!
Congratulations to Spencer Rivkin for winning the 2015 2WD Off-Road I.F.M.A.R. World Championships!
Products used
#90003 Team Associated RC10B5M Team Kit (modified)
#27001 Reedy Blackbox 410R 1S-2S Competition ESC w/PROgrammer
#241 Reedy Sonic 540 Mach 2 6.0T motor
#319 Reedy LiPo 3900mAh 70c 7.4V LP Shorty battery
#27100 Reedy RS1206 Digital HV Hi-Speed Competition Servo
Team Associated - Champions by Design
---