Kingsbury Takes Win at the R.O.A.R. Region 4 1:8 Offroad
Wednesday, Oct 21, 2015 at 12:00am CDT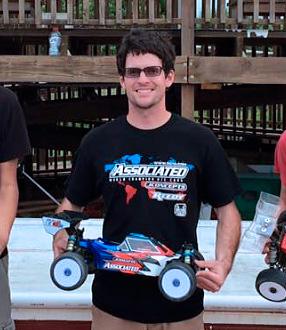 This past weekend I traveled to Sundancers Raceway in Port Saint Lucie, FL, for the R.O.A.R. Region 4 1:8 scale off-road race.
During the first few laps on the track with my new RC8B3 and B3e, I could tell right away I was going to make fast laps while still being easy to drive. Practicing Friday I was able to get a great tune on my engine, make minor setup changes for the high-grip track, and try different tire combinations. I felt very confident leading into qualifying day.
During qualifying, the best two of three rounds counted using qual points. I was able to TQ both qualifiers in Pro Nitro Buggy to become the overall TQ. In Pro eBuggy I TQed rounds 2 and 3 to become the overall TQ in that class as well.
Heading into mains day I felt like drivers with the Team Associated buggy paired with JConcepts tires would be my biggest competition. Wrapping up that win felt great, but I really wanted the Nitro Buggy title. Unfortunately, after being in the lead during the Nitro Buggy race, I had an issue and was in the pits for 10 laps.
I'd like to thank all my sponsors for the support. Team Associated, Reedy, JConcepts, and Kustomrcgraphics. I would also like to thank Jason Ruona and John Piant for support and tire tips at the track.
Thanks to Brett Kingsbury for this report.
Products used
#80914 RC8B3 Nitro Team Kit
#80916 RCB3e Team Kit
#752 Reedy WolfPack LiPo 4000mAh 35C 7.4V
#315 Reedy LiPo 2100mAh 7.4V RX/TX Battery
#27101 RT1508 Digital HV Hi-Torque Competition Servo
Team Associated - Champions by Design
---