Kyle McBride takes 2WD and 4WD at the 1/10th EP Australian Nationals
Wednesday, Nov 18, 2015 at 12:00am CST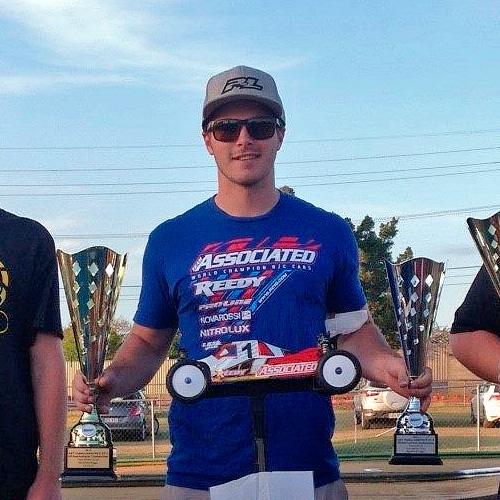 This past week the 1/10th EP Australian Nationals were hosted by my home track, Chargers RC race club. My B5M was easy to drive and quick right out of the gate. I managed to TQ all four rounds of qualifying, and once finals came around, I dominated A1 and A2 to take the 2WD National championship. My Reedy electronics performed perfectly all week.
Next up was 4WD. We were allowed one practice round in the morning and straight into the same qualifying and finals setup. The track had really come up to a very high traction, even more so than in 2WD. My 4WD ended up being great from the 1st qualifier and I took the TQ by a large margin. I managed to take the overall TQ, having won three out of the four qualifiers, and we had the car at a pretty good setup for the finals. I managed to win the first two A mains once again to take the 4WD championship!
Thanks to Kyle and Scott McBride for this report.
Winning 2WD Products Used
#90003 RC10B5M Team Kit
#260 Reedy Sonic 540-M3 Motor 7.5 Modified
#738 Reedy WolfPack LiPo 3800mAh Shorty 7.4V 25C Battery
#27001 Blackbox 410R 1S-2S Competition ESC w/Programmer
#27100 Reedy RS1206 Digital HV Hi-Speed Competition Servo
#790 Reedy Pro Silicone Wire 13AWG, 1m
Winning 4WD Products Used
#9063 Factory Team B44.3
#262 Reedy Sonic 540-M3 Motor 6.5 Modified
#602 Reedy LiPo 4100mAh 65C 7.4V Shorty Comp. Battery
#27001 Blackbox 410R 1S-2S Competition ESC w/Programmer
#27100 Reedy RS1206 Digital HV Hi-Speed Competition Servo
#790 Reedy Pro Silicone Wire 13AWG, 1m
Team Associated - Champions by Design
---