AE Domination Down Under Continues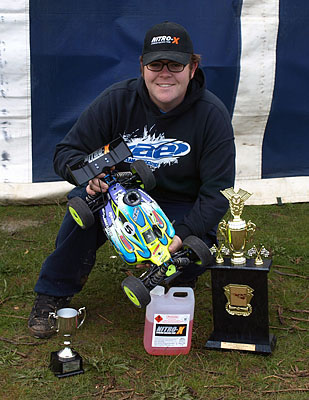 Another successful month for AE down under! Matt Griffin got the ball rolling by dominating a rain-affected 1/8 scale buggy Victorian State Championships with his RC8 buggy.

Consistently fastest through qualifying, Griffin secured TQ just before the rain came calling for the event to be called on qualifying.

A fortnight later in sunny Mildura, the Electric off road Victorian State Championships were run. This time come race day there was no rain in sight and all the 150 competitors enjoyed some tight close racing on the high-grip fast-flowing Mildura track. Matt Griffin once again shot his Reedy-powered B44 to the front of the pack to TQ and drive off into the distance in 4WD Modified. It just adds to a special year downunder for Griffin's B44, undefeated at every sanctioned event entered.

Ray Munday continued his fine form from the nationals, taking TQ and then going on to take the win in a triple A main series that went right down to the last lap of the third main. Munday's Factory Team B4 looked silky smooth on the track.

Up-and-coming talent Jay Beattie continued to shine by taking the win in 4WD stock with his B44, then backing it up with a TQ and win in the Stock truck class with his Factory Team T4. Jay is going to be a name of the future in years to come in Australia.

Rounding out a weekend of domination was Mildura's own Scott Cameron, who TQ'd and won the highly competitive 2WD stock class. Scott wrapped up the first two legs with his Factory Team B4 to add the Victorian championship to the 2WD stock national title he collected earlier in the year.
---