Team Associated Truck Champions at JConcepts Indoor Finale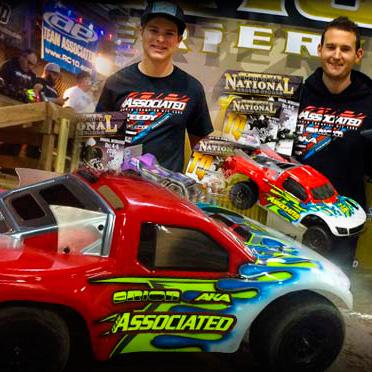 The final stop of the JConcepts Indoor National Series makes its way to Omaha, Nebraska to the midwest gem of the Hobbytown Hobbyplex. Recently announced as the host of the 2016 ROAR 1:10 Electric Off-Road, "The Plex" as it's known, has a large indoor facility with a tall driver's stand that gives them a great view of the track. Racers were treated to a wide, open layout that challenged drivers to hit consistent lines while laying down fast lap times.
In the 2WD Modified Short Course class it was the Team Associated SC5M of Ryan Cavalieri that dominated the field. With a TQ in two of the three rounds, Cavalieri started out front in the single A Main and never looked back. Taking the win by 10 seconds over second place, the title was never in question.
In the 2WD Modified Stadium Truck class it was again a Team Associated driver who dominated qualifying. This time it was the Reedy-powered T5M of Spencer Rivkin who jumped out ahead of teammate Cole Tollard. An early mistake by Tollard gave Rivkin a comfortable lead, allowing him to cruise to the victory in the single A Main.
Also taking victories for Team Associated and Reedy were the B5M FL of Ayden Horne in 17.5 2WD Buggy, the B5M CE of Al Horne in 40+ 2WD Buggy, the SC5M of Scotty Ernst in 17.5 2WD Short Course, and the T5M of Shane Borden in 17.5 2WD Stadium Truck.
Look for a full series wrap-up shortly highlighting the four series championships won by Team Associated and Reedy.
Products used
#70006 RC10SC5M Team Kit
#70001 RC10T5M Team Kit
#90002 RC10B5M Champions Edition
#90000 RC10B5M Factory Lite
Reedy Products used
#27001 Blackbox 410R 1S-2S Competition ESC w/PROgrammer
#261 Reedy Sonic 540-M3 Motor 7.0 Modified
#254 Reedy Sonic 540-M3 Motor 17.5 Spec
#322 Reedy LiPo 5300mAh 70C 7.4V Shorty
#27101 RT1508 Digital HV Hi-Torque Competition Servo
Reedy 1216-C2 Dual AC/DC Competition Battery Charger
---