Team Associated wins big at largest JConcepts Super Cup ever!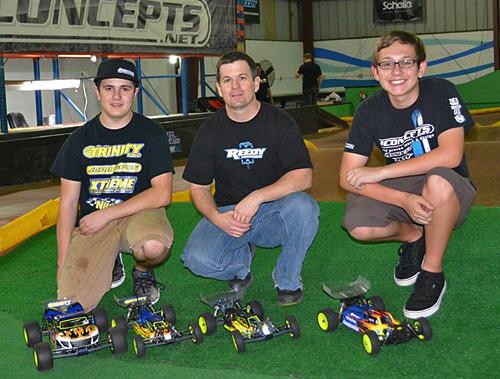 The opening round of the JConcepts Super Cup kicked off the 2016 season with a bang as 297 entries made their way to the newly renovated Beachline Raceway. Beachline Raceway is located in Cocoa, FL and is quickly becoming one of the nicest indoor RC race facilities in the country. The unique surface is sealed orange clay that provides amazing traction, low tire wear, and the consistency you need throughout an entire event. The fresh track layout provided a nice combination of speed, elevation, jumping, and technical precision.
Qualifying was stacked with amazing talent throughout the Stock and Mod classes, but it would be the main events that would provide all the action. Expert Stock (17.5/blinky) got things rolling for the premier classes as newly signed Team Associated young gun AJ Marasco took his B5MCE from sixth on the grid straight to the front. After taking the lead on lap 6, AJ controlled the pace till the end for the overall win. Jeremy Harris and Alan Wight (TQ) took the second and third podium spots for a B5M sweep!
Next up was 2WD Mod Buggy. With a former World Champion and several A-Main National and Worlds finalists, this was certainly the most competitive class of the weekend. The start of the race saw a four-way breakaway with Billy Easton, JR Mitch, Daimon Borkowicz, and Paul Wynn until lap 4 when things started to heat up. Team Associated teammates Daimon and Paul moved into second and third after a mistake from JR, and on the very next lap Daimon took the lead from Billy after he made a small mistake. Daimon led for the next few laps over Billy, but Billy and Daimon tangled on lap 11; this allowed Paul and JR to take over first and second. Paul never looked back as he led the remaining laps with his Reedy-powered B5MCE. JR Mitch and Daimon Borkowicz went on to finish second and third.
Expert Stock Truck (17.5/blinky) saw a great three-way battle between Robert Molina (TQ), Team Associated's AJ Marasco, and Kyle Paquett. An early mistake by Robert dropped him back to sixth, allowing AJ and Kyle to battle it out early as they exchanged the lead. Halfway through the race, AJ and his T5M took the lead and looked to cruise to an easy victory, but youngster Robert and his T5M put together some amazing laps to make a late-race charge to finish only 1.6 secs back. AJ held on for the win, with Robert second and Kyle third -- for another Team Associated podium sweep!
4WD Mod Buggy was the last of the premier classes and it was Team Associated's Daimon Borkowicz who put together an amazing drive. Daimon and his Reedy-powered B44.3 started from the TQ position, but was challenged early by JR Mitch. JR went for an aggressive jump pass early on lap 3, but it didn't work out and allowed Daimon to open up his lead for a wire-to-wire win.
Other notables: Team Associated vehicles won the Indie Stock class (no sponsored drivers allowed) with privateer Shad Galante (B5M), the Expert Stock SCT with privateer Robert Molina (SC5M), and 2WD 40+ with privateer Bart Collins (B5M).
Special thanks to Beachline Raceway, the track crew, and JConcepts for the amazing Super Cup Series.
Products used
#90002 RC10B5M Champions Edition
#9063 Factory Team B44.3
#70001 RC10T5M Team Kit
#70006 RC10SC5M Team Kit
Reedy Products used
#27001 Blackbox 410R 1S-2S Competition ESC w/PROgrammer
#262 Reedy Sonic 540-M3 Motor 6.5 Modified
#259 Reedy Sonic 540-M3 Motor 8.0 Modified
#322 Reedy LiPo 5300mAh 70C 7.4V Shorty
#27100 Reedy RS1206 Digital HV Hi-Speed Competition Servo
Thanks to Paul Wynn of JConcepts, Inc. for this report.
Team Associated - Champions by Design
---