Eight Victories For Team Associated at the JConcepts Winter Indoor Nationals!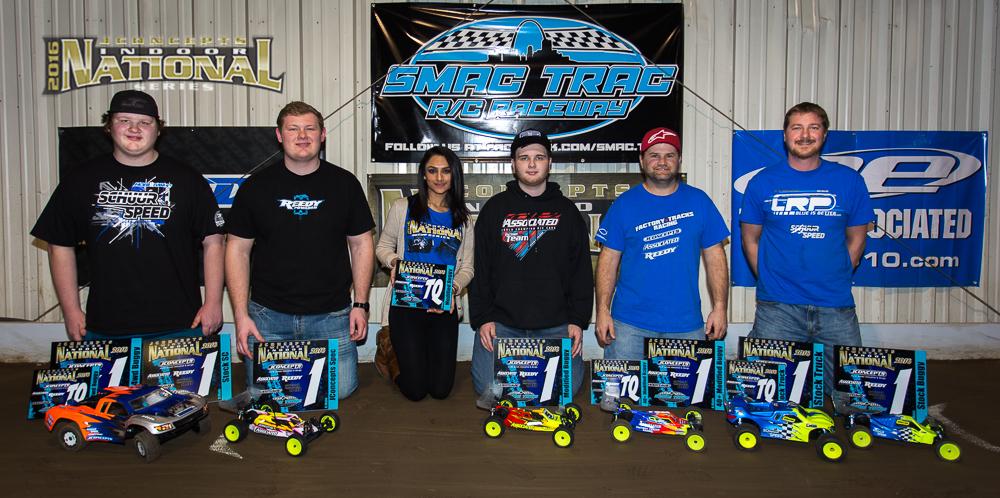 In its fifth year, the JConcepts Indoor National Series kicked off round one with the Winter Indoor Nationals at the fast and fluid Smactrac Indoor R/C Raceway just outside of St. Louis, MO. With a narrow and twisty layout, racing was tight and heated from the first time racers hit the track.
Throughout qualifying, the newly crowned Reedy International Off-Road Race of Champions 4WD Open champion Alex Kosciuszek was setting the pace. Taking the TQ in the premier classes of 2WD and 4WD Modified with his Reedy-powered B5MCE and B44.3, Kosciuszek lead a field dominated by Team Associated with drivers like Daimon Borkowicz, Nick Gibson, Brent Thielke, Colton Kruse, Tyler Jones, Ayden Horne, Jason Ruona, Chad Karstens, Rod Rippee, Adam Rayls and others all making the A Mains.
When the racing was done and the trophies were being handed out, Team Associated shined brightest. Taking eight victories and countless podiums, the B5M, B44.3, SC5M, and T5M vehicles were clearly the choice of the top drivers.
Thank you to JConcepts and Smactrac for a great start to the series, and look for Team Associated and Reedy at the next round in Tacoma, WA at Tacoma R/C Raceway.
Vehicles used
#90000 RC10B5M Factory Lite
#90002 RC10B5M Champions Edition
#70001 RC10T5M Team Kit
#9063 Factory Team B44.3
#70006 SC5M Team Kit
Reedy Products used
#27000 Blackbox 410R 1S-2S Competition ESC
#262 Reedy Sonic 540-M3 Motor 6.5 Modified
#260 Reedy Sonic 540-M3 Motor 7.5 Modified
#254 Reedy Sonic 540-M3 Motor 17.5 Spec
#27100 Reedy RS1206 Digital HV Hi-Speed Competition Servo
#27101 RT1508 Digital HV Hi-Torque Competition Servo
#27200 Reedy 1216-C2 Dual AC/DC Competition Balance Charger
Team Associated - Champions by Design
---