Baker, Mayo, and Schultz victorious at California State Championships!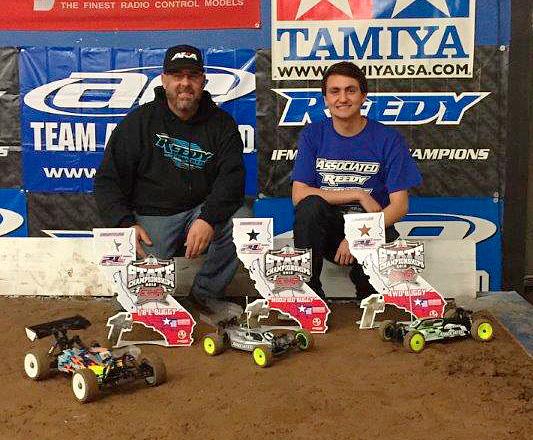 Coyote Hobbies, located in California's high desert town of Victorville, hosted the 2016 California State Championships. The race attracted over 230 entries from California and surrounding states. Reedy's team drivers were on hand to battle it out for the prestigious title and to support customers that may have questions about how to extract maximum performance from their Reedy products. David and Mona Batta have built a great facility that features excellent traction and a loyal local following. Jimmy Babcock was called in to direct the race program and keep everything running smoothly.
When all was said and done, Reedy drivers took home multiple titles. The big winner on the day was Jake Mayo, who captured both the 2WD Modified and 4WD Modified classes with his Reedy-powered B5M and B44.3. Jake drove great all weekend and was the man to beat from the outset of practice. In 1/8 E-buggy, Barry Baker chose to run his "superlite" 2S-equipped car against all the big boys with their 4S systems. This excellent choice resulted in the win for Barry and the coveted title.
In the 2WD Modified Short Course class, John Schultz drove to victory from second on the grid with his Reedy-powered SC5M.
It was a great weekend for the team and the racing was exciting from start to finish. Congratulations to all the winners and thanks to Coyote Hobbies for hosting a great event!
Products used
2WD Modified
#262 Reedy Sonic 540-M3 Motor 6.5 Modified
#319 Reedy LiPo 3900mAh 70C 7.4V LP Shorty Battery
#27101 RT1508 Digital HV Hi-Torque Competition Servo
#27200 Reedy 1216-C2 Dual AC/DC Competition Balance Charger
#90000 RC10B5M Factory Lite

4WD Modified
#262 Reedy Sonic 540-M3 Motor 6.5 Modified
#322 Reedy LiPo 5300mAh 70C 7.4V Shorty
#27101 RT1508 Digital HV Hi-Torque Competition Servo
#27200 Reedy 1216-C2 Dual AC/DC Competition Balance Charger
#9063 Factory Team B44.3

1/8 e-Buggy
#204 Reedy Sonic 544 Motor 4800kV
#309 Reedy 7000mAh 65C 7.4V Competition LiPo Battery
#27106 Reedy RS1806A Digital HV Hi-Speed Aluminum Competition Servo

2WD Modified Short Course
#262 Reedy Sonic 540-M3 Motor 6.5 Modified
#317 Reedy LiPo 5200mAh 50C SQ 7.4V Competition Battery
#27100 Reedy RS1206 Digital HV Hi-Speed Competition Servo
#70006 RC10SC5M Team Kit
---