Six Victories For Team Associated at the 30th Annual Pro-Line Cactus Classic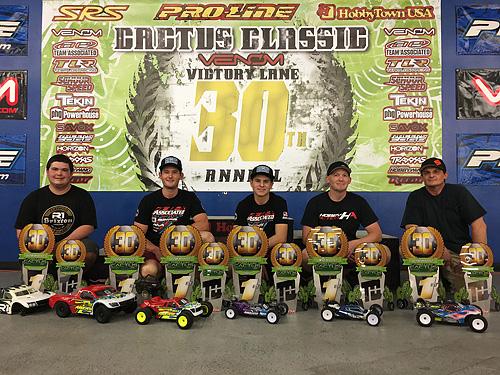 The 30th Annual Pro-Line Cactus Classic was held this past weekend at Hobbytown/SRS in the heart of Phoenix, AZ. With its second year at the new indoor facility, the Cactus continues the tradition of March racing in the Arizona desert. The challenging surface and a supercross-inspired layout tested the skills of some of the best racers from around the world.
In the premier class of 2WD Modified Buggy, it was the reigning World Champion's Reedy-powered B5M of Spencer Rivkin that was the class of the field. Starting on pole for the triple A Mains, Spencer gapped the field at the start and never looked back in both A1 and A2 to claim his first modified win at the Cactus Classic. Joining him in the main event were teammates Ryan Cavalieri (3rd) and Ashe Deering (7th).
Also getting a TQ and win with his T5M was Ryan Cavalieri in 2WD Modified Truck. Cavalieri was able to take advantage of others' errors and race his way to the wins in A1 and A2, securing the overall title. Joining Ryan in the main events were Spencer Rivkin (4th), Lee Martin (5th), Carson Wernimont (7th), and James Rowan (10th), who were also using Team Associated vehicles.
In what was the feel-good story of qualifying, Team Associated and Reedy's Brian "Dirtinator" Kinwald battled hard with teammate Ryan Cavalieri driving their SC5M trucks in 2WD Modified Short Course. Kinwald showed he had the speed and nerves to handle the pressure from the 3-time reigning ROAR 2WD Short Course National Champion to start on pole for the triple A Mains. A break from Kinwald and poor result from Cavalieri in A2 meant the duo would have to buckle down for A2 and A3 if either were to win. In A2, Kinwald was able to gap Cavalieri for the win by 2.105 seconds. This meant that if Cavalieri won A3, he would have to do it by more than the margin from A2. An early pass from Cavalieri in A3 saw him charge hard out front while Kinwald kept pace; however, in the end Cavalieri won A3 by 2.558 seconds, giving Cavalieri the tiebreaker by 0.453 seconds. Heartbreak for sure for Kinwald, but everyone enjoyed cheering on his battle with one of the world's best short course drivers. Joining Ryan and Brian in the main event for Team Associated were Spencer Rivkin (4th) and Kyle Davis (6th).
Rounding out more victories driving Team Associated vehicles were Ron Begeot in 2WD Super Stock 13.5 Buggy with his B5M, Jacob Ramey in 2WD Super Stock 13.5 Short Course with his SC5M, and Randy Locken in 2WD Stadium Truck Stock with his T5M.
Products used
#90000 RC10B5M Factory Lite
#70001 RC10T5M Team Kit
#70006 RC10SC5M Team Kit
Reedy Products used by Spencer Rivkin
#27000 Blackbox 410R 1S-2S Competition ESC
#260 Reedy Sonic 540-M3 Motor 7.5 Modified
#322 Reedy LiPo 5300mAh 70C 7.4V Shorty Battery
#27101 RT1508 Digital HV Hi-Torque Competition Servo
#27200 Reedy 1216-C2 Dual AC/DC Competition Balance Charger
#647 Pro Silicone Wire, 12AWG Black
#794 Reedy Low Profile Caged Bullets, 5x14 mm, qty 2
#27024 Blackbox 410R Pro Capacitor Unit
Team Associated - Champions by Design
---