Vidal takes Catalonia Championship Round 3 with his RC8B3e
Friday, Jun 3, 2016 at 12:00am CDT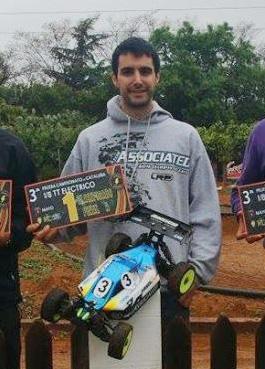 Last weekend was the Catalonia Championship Round 3 at the nice "Q-track" of Sant Cugat in Barcelona, Spain. The track was small but with good flow and good jumps.
The weather was bad throughout the weekend. Saturday was free practice, but since it was raining that morning, little testing could be done, which meant that the afternoon was extra busy for preparations. We made good use of the five rounds of qualifying and developed a good setup for the mains.
On Sunday it rained again, but but not enough to halt the race. We were able TQ in the last round.
For the final I was on the three spot, right behind ace drivers Max Ricca and Jaume Figuls, so the final promised to be very tight. At the start of the A1 it started to pour. I battled racers, rain and mud to reach Jaume, then we swapped places for the next two laps before I pulled ahead for the finish.
The RC8B3e Team Kit was dialed for the mains. It was a very challenging environment in which to race, yet my basic setup needed just a few adjustments between rounds to get it on point.
Next stop: warm-up for the Euros at Valladolid on July 25!
Products used
#80916 RC8B3e Team Kit
Thanks to Carlos Pineda Vidal for this report.
Team Associated - Champions by Design
---