Rivkin and RC8B3 R.O.A.R. National Champion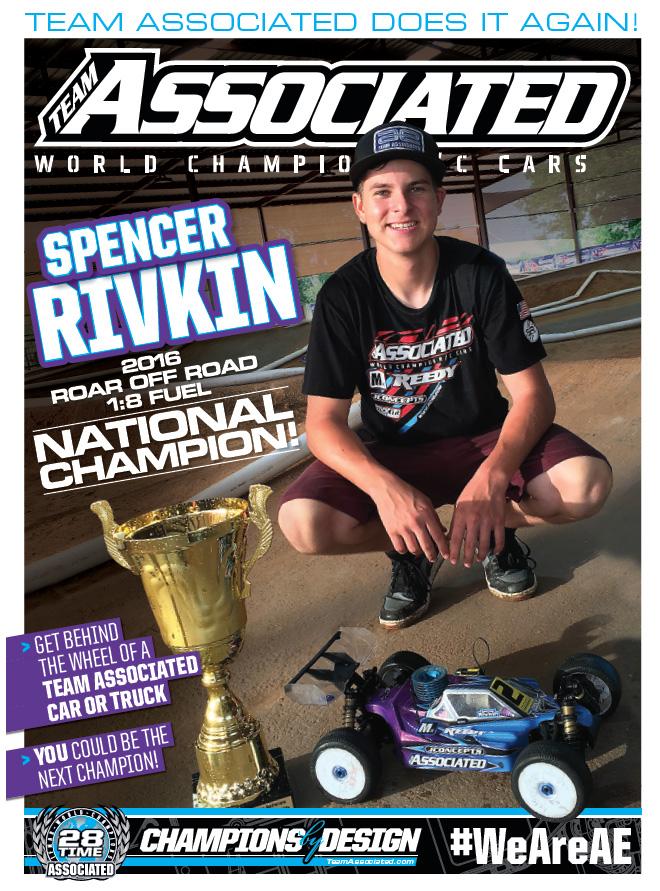 The 2016 running of the R.O.A.R. 1:8 Fuel Off-Road Nationals returned to the site of the 2014 event at Thornhill Racing Circuit outside of Austin, TX in Hutto. Racers from around the country and Canada were in attendance to see the renovations to the facility. With a 28,500 sq. ft. permanent awning covering the track, it is now shielded from the sometimes erratic Texas weather.
As qualifying got underway, the hard-packed clay surface went from moist to dusty to grooved throughout each day. With the ladder system of qualifying, only the top qualifier went directly into the main event and the other 14 finalists had to race their way in to the 1-hour final. With six RC8B3 buggies (Rivkin, Cavalieri, Dellinger, Hartson, Kosciuzek, and Saxton) out of 30 in the two semifinals, Team Associated occupied 1/5 of the very competitive field. After the semifinal racing was completed it was Spencer Rivkin who lined up second on the grid for the A Main and teammate Ryan Cavalieri just behind in third.
As the main event began, Rivkin worked his way in to the #1 spot just two laps in. As the field sorted out, Cavalieri worked his way into second and began closing the gap to Rivkin and got within 4 seconds. Staying focused and consistent, Rivkin held off the hard charges from the field for 58 of the 60 minutes to claim the coveted National Championship for 1:8 Nitro Buggy. This is Rivkin's first R.O.A.R. National title in the category and puts him on a very short list of racers to win both an I.F.M.A.R. World and R.O.A.R. National Championship. Congratulations, Spencer!
Products used
#80914 RC8B3 Nitro Team Kit
#27101 RT1508 Digital HV Hi-Torque Competition Servo
#315 Reedy LiPo 2100mAh 7.4V RX/TX Battery
#27200 Reedy 1216-C2 Dual AC/DC Competition Balance Charger
#1738 Factory Team Glow Igniter
#1747 Fuel Bottle Pro, 500cc
#1363 FT Aluminum Servo Horn 25T, 18.5 mm
Team Associated - Champions by Design
Check out the Factory Team Spotlight!

---