Paul, Daimon, and AJ Strike First at the JConcepts Super Cup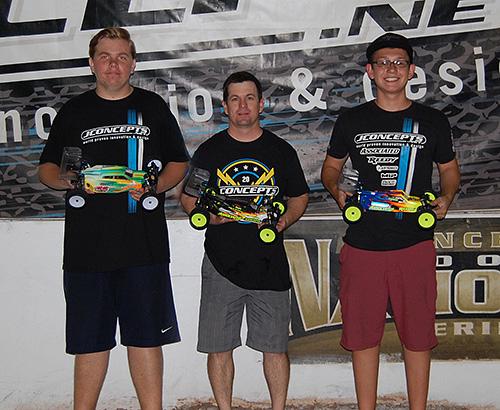 The 2016 JConcepts Super Cup Series kicked off its fall session last weekend at NewRed Hobbies indoor facility located in Ocala, Florida. NewRed Hobbies has a very unique surface, as they were one of the first tracks in the country to start using "Soiltac" exclusively. The glued surface makes the tire choice very simple as everyone runs slicks -- JConcepts Smoothies for most.
With 225 entries, race director Lance MacDonald got qualifying rolling promptly at 9:30am. Qualifying was highly contested throughout the two rounds, but it's in the main events where the points are claimed. Team Associated's AJ Marasco took his B6D with laydown transmission from the TQ position to a wire-to-wire victory in the highly contested Expert Stock 17.5 Buggy class. Modified 2WD Buggy saw Team Associated/Reedy Powered driver Paul Wynn take his B6D with laydown transmission to the top spot on the podium while his teammate Daimon Borkowicz finished third overall with his B6D. Team Associated/Reedy Powered driver Daimon Borkowicz put in a flawless wire-to-wire win from his TQ spot in the insanely fast 4WD Modified Buggy class.
Thanks to JConcepts for an amazing series and NewRed Hobbies for hosting a fantastic event.
Vehicles used
#90012 RC10B6D Team Kit
#9063 Factory Team B44.3
Reedy Products used
#260 Reedy Sonic 540-M3 Motor 7.5 Modified
#262 Reedy Sonic 540-M3 Motor 6.5 Modified
#319 Reedy LiPo 3900mAh 70C 7.4V LP Shorty Battery
#322 Reedy LiPo 5300mAh 70C 7.4V Shorty
#792 Reedy Low Profile Caged Bullets, 4x14 mm, qty 2
#27003 Reedy Blackbox 1000Z+ Competition ESC
#27024 Blackbox 410R Pro Capacitor Unit
#27101 RT1508 Digital HV Hi-Torque Competition Servo
#27109 Reedy RT1408 LP Digital HV Hi-Torque Competition Servo
#27200 Reedy 1216-C2 Dual AC/DC Competition Balance Charger
#27225 US to IEC 320 C5 Angle AC Power Cord, .5m
#27304 Reedy LiPo Battery Weight Set
Thanks to Paul Wynn of JConcepts, Inc. for this report.
Team Associated - Champions by Design
Check out the Factory Team Spotlight!

---