Grainger Wins at Mendip with his TC7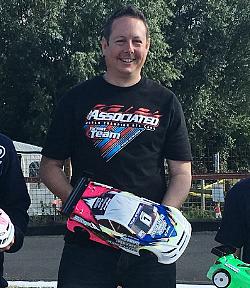 The fourth round of the BRCA UK Championship, the penultimate event in the series, took place at the Mendip circuit this weekend.
The championship battle was really heating up as the season drew to a close, with the three title contenders (Chris Grainger, Elliott Harper and Olly Jefferies) all having a win apiece. From the BTCC a few weeks ago, the drivers knew tire strategy would be key on the fast but abrasive circuit just outside Weston-super-Mare.
Chris knew that nothing less than a win would improve his championship standings, so he took an aggressive approach to the weekend, deliberately sitting out the opening qualifier to hopefully put himself in a better position with the limited control tires later in the weekend. As qualifying progressed, his plan was working out, as he took two TQs and a second place to secure the overall pole position. Behind him, fellow Team Associated/Reedy Powered driver Matthew White took three top three results to line up third on the A Final grid. They were joined in the A Final by Team Associated stalwart Alan Bickerstaff; the TC7 was the most popular car in the A Final.
Chris' strategy really paid off in the finals. His Associated TC7 also proved its pace on both new and used rubber, with Chris securing the overall win with two A Final leg victories and one second-place finish. Behind Chris, Matthew just missed the podium, with fourth overall, and Alan took seventh.
In the Pro Stock class, the Team Associated results kept on coming, again with three cars in the A Final. Mark Wallace ended fourth overall, with Chris Clark seventh, and rising star Michael Bolt made his second BRCA A Final in succession and took ninth overall.
Matthew is firmly on track for an overall top five finish, and Alan appears set to lock down a top 10 result at the end of the year. The Pro Stock drivers are also on track to secure three overall top ten positions.
The championship concludes at West London in September.
Products used
#30120 TC7 Factory Team
#92100 FT Aluminum Wing Buttons
#31668 FT Floating Steering Bellcrank Posts
#31632 DCV Kit (Dual Constant Velocity axle kit)
#31638 Spool Outdrives, steel
#31639 Belt Tensioner Kit
#31640 Fan Mount Set
#31296 Ballast Weights
Reedy Products used
#266 Reedy Sonic 540-M3 Motor 4.5 Modified
#27000 Blackbox 410R 1S-2S Competition ESC
#27108 Reedy RS0806 LP Digital HV Hi-Speed Competition Servo
#27301 Reedy Zappers 5600mAh 7.4V 100C
#790 Reedy Pro Silicone Wire 13AWG, 1m
#794 Reedy Low Profile Caged Bullets, 5x14 mm, qty 2
Thanks to Chris Grainger for this report.
Team Associated - Champions by Design
Check out the Factory Team Spotlight!

---