Cameron Zammit Wins 2016 Victorian State Titles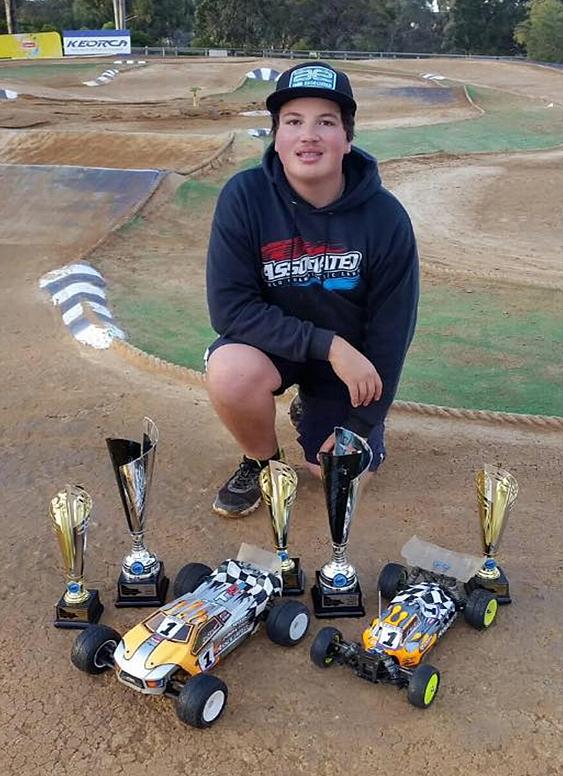 Last weekend the 2016 JConcept Victorian State Titles were held at the Keilor Offroad RC Club. The event began with practice on Saturday with the track starting off dry. I was happy with how the Factory Team B44.3 was handling the bumps. I made a few small changes and the car got better with every change. Once I was happy with setup on the 4WD, I took out the RC10T5M Team Kit to get a good starting setup.
Sunday morning was race day. When we got to the track, it was quite wet after receiving 10mm of rain Saturday night. The club decide to drop one qualifier. In Truck, I was the first one up. The cars were easy to drive despite the wet conditions and I was able to take TQ for round one. In round two, the track got a lot better as it started to dry up. I took TQ for the round, which gave me TQ overall on the grid for Mod Truck final. For round three, we had the opportunity to make changes and I decided to adjust the three-gear -- and still TQ'd the round.
In A1 I got off to a good start and was able to maintain the lead to take the win. In A2 I had some very close nose-to-tail racing with teammate Andrew Selvaggi for most of the duration. When Andrew made a small mistake, I was able to pull away to take the win overall.
For round one in 4WD, the track was still quite wet and yet the B44.3 was on rails. I started behind Ray Munday so all I wanted to do was to put the pressure on. It eventually worked and I took full advantage of his small mistake and was able to get the extra lap and TQ'd the round. In round two, I was starting from the front. Ray started behind me and we had some very close racing for the whole five minutes and Ray took Q2 by one second. In round three, I started behind Ray and was sitting behind him for almost the duration of the race. On the last lap he made a small mistake and I went through, which gave me first and TQ overall to start TQ on the grid for the Main. In A1 I had a great start and was off to a good lead. My aim was to make no mistakes and it worked -- I finished with the win in A1. In A2 my aim was do the same, to be consistent with my driving, and I managed to win the Victorian Championship! I also received Top Junior for the event, which I was super happy as it's my last year as a Junior!
B44.3 Products
#9063 B44.3 Factory Team Kit
#322 Reedy LiPo 5300mAh 70C 7.4V Shorty
#27108 Reedy RS0806 LP Digital HV Hi-Speed Competition Servo
#27000 Blackbox 410R 1S-2S Competition ESC
#262 Reedy Sonic 540-M3 Motor 6.5 Modified
T5M Products
#70001 RC10T5M Team Kit
#319 Reedy LiPo 3900mAh 70C 7.4V LP Shorty Battery
#27108 Reedy RS0806 LP Digital HV Hi-Speed Competition Servo
#27000 Blackbox 410R 1S-2S Competition ESC
#260 Reedy Sonic 540-M3 Motor 7.5 Modified
Thanks to Cam Zammit for this report.
Team Associated - Champions by Design
Check out the Factory Team Spotlight!

---