Showdown as Neil Cragg wins 1:8 Championship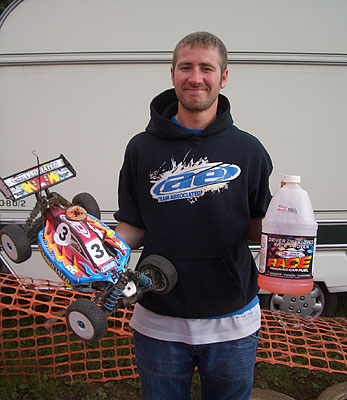 Team Associated driver Neil Cragg secures his second consecutive BRCA 1:8 Off Road Rallycross title after a great win at the final round of the championship.

After a challenging start to the 2008 BRCA Championship, Neil was on top form at the final round of the 1:8 Nationals held at the Pendle & District Model Car Club in Burnley. Neil concentrated on securing his second 1:8 BRCA title, adding to his double European Championship 1:10 electric titles won a few months earlier in Italy.

Neil's start to the 2008 season was hindered by bad weather and electronic failure but the bad weather was left behind for the final round. Pendal was bathed in sunshine and witnessed one of the closest finishes for a championship title. With Graham Alsop leading the championship going into the final round it was Neil's job to win the event to take the title. David Crompton, 8-time British National Champion and Pendal's heavyweight hitter, was going to take some beating and was odds-on favorite for a win. During practice Crompton showed his pace and took TQ after the first two rounds of qualifying but the gap was closing and both Bloomfield and Cragg had a fighting chance. Alsop didn't look as fast throughout qualifying but only needed a third place if Neil was to win.

Crompton stretched out a lead in the final and was looking unstoppable whilst Neil and Darren battled it out for 2nd, slowing one another. David was in cruise control until a few mistakes over the tricky triple section lost him some ground and the chasing two capitalized during the later stages of the race. With five minutes to go Darren made a costly mistake which allowed Neil some breathing space and gave him the chance to knuckle down and pound out some fast laps with his RC8. The chances of a victory and a second championship title looked slimmer by the minute, with Crompton taking the victory at this race. Neil would finish second behind Alsop in the Championship standings.

Meanwhile, the small mistakes from David were adding up and his car looked tricky to drive toward the end of the race - one lap later we realized why. During one of his crashes he damaged a suspension component and after a heavy landing it finally gave way. David fought hard to keep the lead with his broken car but Neil made the pass with two laps remaining. Darren took second and David Crompton limped home in third. This dramatic turnaround and very exciting race gave Neil the race win and Championship title for 2008.

Congratulations to Neil and pitman/father Mick Cragg for a thrilling showdown and a great season of results.
---