Team Associated Dominates Scotty Ernst Off-road Showdown Tour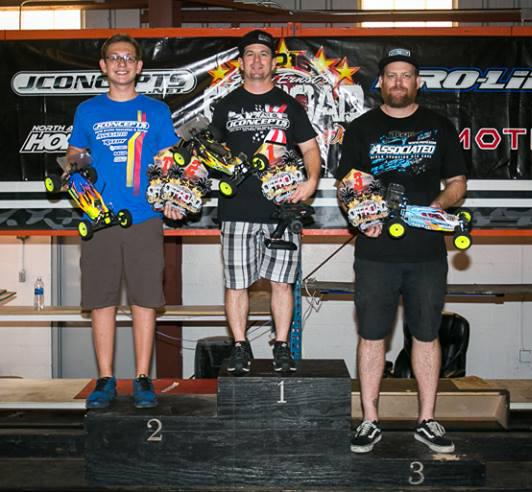 The fifth and final round of the Scotty Ernst Off-Road Showdown Tour made its way to sunny Florida over the weekend. Superior Hobbies/Beachline Raceway, located in Cocoa, FL, just miles away from the Kennedy Space Center and Cocoa Beach, hosted the track. Beachline Raceway is an indoor facility with a sealed orange clay surface that produces insane traction and lightning speed. Team Associated drivers were up for the challenge on this tricky, high-bite, high-speed track all weekend.
Qualifying witnessed some great action when many of the TQ spots were exchanged between drivers over the five rounds of "rocket round" qualifying. Once the dust settled, the top eight spots were locked in all classes as Team Associated vehicles took seven of the nine top qualifying positions.
Main day saw some great bump-up action as we headed into the final A Mains. Team Associated driver AJ Marasco got things rolling for the team by putting together a dominating performance in Stock Truck with his JConcepts-equipped T5M fitted with a Reedy Blackbox 1000Z+. He kept his dominance going by also winning the Pro Stock Buggy class with his B6 fitted with a Reedy Blackbox 1000Z+ and JConcepts products.
Team Associated/Reedy teammates Daimon Borkowicz and Paul Wynn kept the strong performances going as Daimon took his JConcepts-equipped, Reedy-powered B44.3 to a near flawless victory in the 4WD Modified class. Paul then went on to win the 2WD Modified class followed by Daimon for a modified class sweep. Both Paul and Daimon used the B6 buggy packed with Reedy equipment.
Team Associated vehicles also won the following classes:
2WD Independent Buggy: Doug Hudson, B6
2WD Truck Mod: Richard Schaeffer, T5M
2WD SCT Stock: Alan White, SC5M
Special thanks to Scotty Ernst, Thomas Tran, and Robbie Michaels at Beachline Raceway/Superior Hobbies for hosting a fantastic event.
Vehicles used
#90011 RC10B6 Team Kit
#70001 RC10T5M Team Kit
#70006 RC10SC5M Team Kit
Reedy Products used
#260 Reedy Sonic 540-M3 Motor 7.5 Modified
#319 Reedy LiPo 3900mAh 70C 7.4V LP Shorty Battery
#322 Reedy LiPo 5300mAh 70C 7.4V Shorty
#792 Reedy Low Profile Caged Bullets, 4x14 mm, qty 2
#27003 Reedy Blackbox 1000Z+ Competition ESC
#27024 Blackbox 410R Pro Capacitor Unit
#27101 RT1508 Digital HV Hi-Torque Competition Servo
#27109 Reedy RT1408 LP Digital HV Hi-Torque Competition Servo
#27200 Reedy 1216-C2 Dual AC/DC Competition Balance Charger
#27225 US to IEC 320 C5 Angle AC Power Cord, .5m
#27304 Reedy LiPo Battery Weight Set
Photos courtesy of Thomas Tran and Off-Road Showdown Tour.
Thanks to Paul Wynn of JConcepts for this report.
Team Associated - Champions by Design
Check out the Factory Team Spotlight!

---