Hebert Scores Two Wins at Halloween Classic!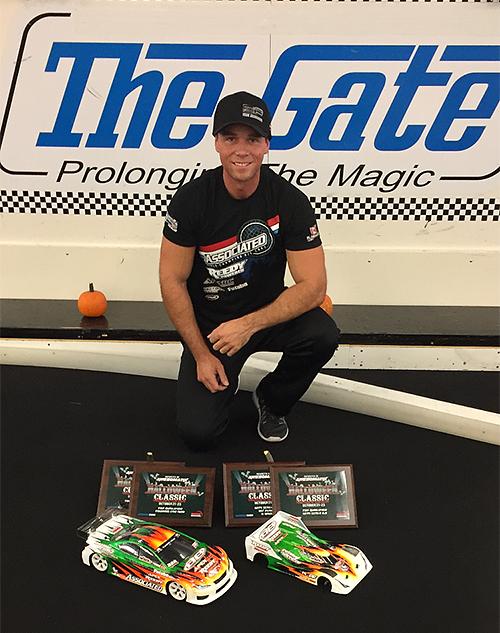 The 2016 Halloween Classic was once again hosted by the NORCAR club at The Gate in Cleveland, OH. The event continues as one of the most prestigious of the carpet season with racers from across North America competing on the high-grip carpet circuit. Due to high demand and limited pit space, the race sold out well in advance.
Team Associated/Reedy factory driver Keven Hébert was competing in both the 1/12 Modified and Touring Car classes and claimed the pole position in each after four grueling rounds of rocket-round qualifying.
Like at last month's IIC in Las Vegas, 1/12 Modifed participants were limited to 6.5 turn motors. This has proved to be quite popular, although it hasn't stopped Hebert's domination of the class. A 10-second gap to second in qualifying was proof of his speed and in the main event Keven cruised to victory, wire-to-wire.
Although Keven was the top qualifier in the Modified Touring Car class, his gap to second shrunk as qualifying continued and grip levels increased. Regardless, Keven took another wire-to-wire victory for his second win of the event!
Thanks to the NORCAR club and The Gate for hosting another fine event! Happy Halloween everyone!
Products used, Modified TC
#30121 TC7.1 Factory Team Kit
#266 Reedy Sonic 540-M3 4.5
Reedy Blackbox 510R Competition ESC
#27301 Reedy Zappers 100C 5600mAh 7.4V
Products used, 1/12 Modified
#4020 RC12R5.2 Factory Team Kit
#262 Reedy Sonic 540-M3 6.5
#320 Reedy 70C 8000mAh 3.7V
#27000 Reedy Blackbox 410R Competition ESC
Team Associated - Champions by Design
Check out the Factory Team Spotlight!

---