B6D Sweeps 2WD Offroad Australian National Championships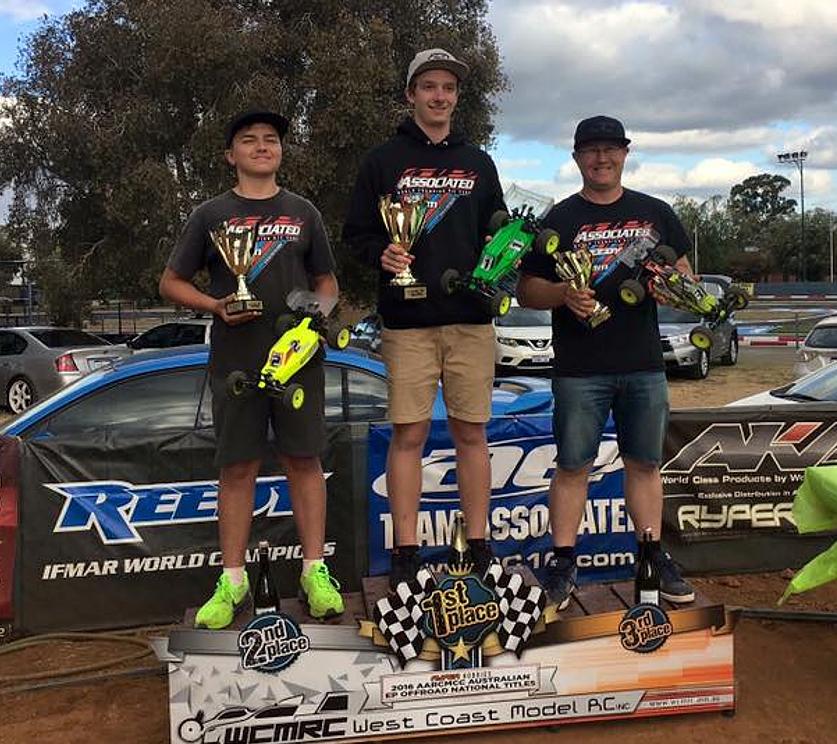 I traveled to Perth for the 2016 1/10 EP Offroad Australian National Championships. This was my third year at a 1/10 National event. Practice was held over two days and started well for me, with my B6D and B44.3 cars feeling consistent in the slippery conditions. The track was flowing and although it started off slippery it grooved up towards the end of the second day of practice.
2WD race day started off extremely well and I top qualified my first three qualifiers to take the overall TQ. This was my first TQ at a National event and I was stoked! The B6D was on rails and super consistent.
In the first final I made an error on the second lap, which put me back in the pack. I crawled my way back to second position, which is where I finished that final. In the second final I got away clean and gapped the field for a comfortable win. The third final was a heated battle with fellow AE teammate Alex Bernadzick for the overall win. Coming down to the last lap, I put in the fastest lap of the weekend and took the overall win and the championship title! What a feeling knowing that I now held the National Title, and to top it off, my AE teammates Alex Bernadzick and Ray Munday took second and third.
Overall, the event was a huge success. The AE team worked together as a complete unit, offering each other tips and setup support. On a Facebook live feed on Saturday morning, fellow racer and race director, Chris Mitchell, talked about what everyone learned from the 2WD day. His comment went something like, "What did we learn? We learnt if you didn't have a B6D you were nowhere."
Products used
#90012 RC10B6D Team Kit
#27100 Reedy RS1206 Digital HV Hi-Speed Competition Servo
#27000 Reedy Blackbox 410R
#260 Reedy Sonic 540-M3 Motor 7.5 Modified
#317 Reedy LiPo 5200mAh 50C SQ 7.4V Competition Battery
Photos courtesy of Mitchell Steer. Thanks to Mitchell Steer for this report.
Team Associated - Champions by Design
Check out the Factory Team Spotlight!

---