Zappers Power 13.5 Prostock Podium in Oulu!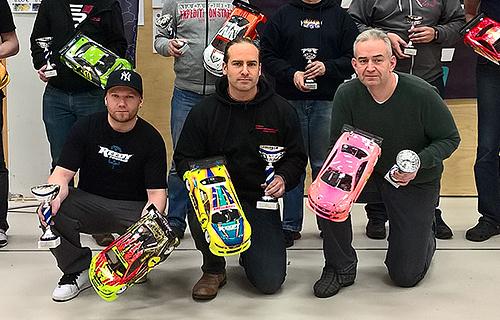 FinTrack Tour Round 2 of the Finnish TC National Series was held last weekend in Oulu, Finland, with a competitive field of nearly 80 entries. The host club, Team OSPA, did a great job in providing a technical but still flowing track to test the competitors' driving and setup skills. A powerful air conditioning system resulted in lower grip conditions which provided a surprising challenge for drivers who had prepared for the high grip conditions.
The 13.5 Prostock class was once again highly competitive thanks to a handout motor rule that eliminates any "motor of the week" advantage. So battery performance became increasingly important, with drivers looking for any edge over their competition. The top four qualifiers all chose Reedy Zappers to gain an advantage over the rest of the field.
Kalle Lehto dominated qualifying and claimed the pole position ahead of Teemu Saarinen. Round one winner and Reedy factory driver Vesa Yli struggled for grip but held on to third, with Kim Elfstrom rounding out the Reedy-powered quartet in fourth.
Kalle was unbeatable and won all three legs of the main event. Vesa continued to improve, taking advantage of the early laps, and took second in all three mains and secured the runner-up spot behind Kalle. Thanks to strong driving from Kim, a third-place finish secured a 1-2-3 sweep of the podium.
The FinTrack Tour's 13.5 Prostock class has reached the halfway point in the championship. Reedy drivers Vesa Yli and Kalle Lehto sit equal with a win and second place finish each. Barring a major mistake, one of these two drivers appears destined to claim the title of National Champion when the series concludes in March. Stay tuned!
Product used
#27301 Reedy Zappers 5600mAh 100C LiPo Battery
---