Rivkin Leads Team Associated To Six JC INS Titles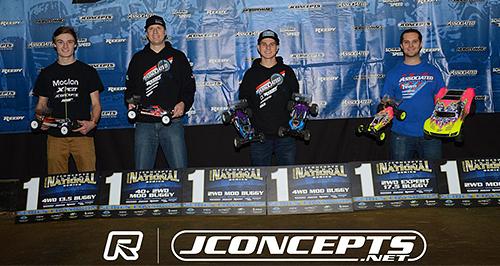 The 2016 JConcepts Indoor National Series (INS) is a nationwide, indoor off-road series of five events that makes stops around the country where racers score points towards the overall series titles. Featuring events in Missouri, Washington, California, Massachusetts, and North Carolina, racers from around the nation got a chance to compete against each other to vie for the coveted titles.
Team Associated/Reedy's most recent World Champion, Spencer Rivkin, was able to secure the most highly contested titles of 2WD and 4WD Open driving his Reedy-powered B6 and B44.3. Joining him, also driving a B6, was Brent Thielke in the 40+ 2WD Modified Buggy class and Shane Borden in 2WD 17.5 Buggy. Shane also took home the title in 2WD Modified Short Course with his SC5M, while privateer Douglas Hobbs claimed the inaugural 13.5 4WD Buggy title with his B44.3.
With six years under its belt, the JConcepts Indoor National Series continues to grow in popularity, and Team Associated and Reedy have been proud supporters of the series since the beginning in 2010. Look for the Team to continue competing in 2017 as the series adds a new location in Arizona.
Products used
#90011 RC10B6 Team Kit
#9063 Factory Team B44.3
#70006 RC10SC5M Team Kit
#260 Reedy Sonic 540-M3 Motor 7.5 Modified
#263 Reedy Sonic 540-M3 Motor 6.0 Modified
#315 Reedy LiPo 2100mAh 7.4V RX/TX Battery
#996 5mm 1S-2S Balance Charge Lead with SP Clip
#27005 Blackbox 510R Competition ESC w/PROgrammer 2
#27027 Blackbox PROgrammer 2
#27200 Reedy 1216-C2 Dual AC/DC Competition Balance Charger
#27220 Reedy 7-in-1 Charge Lead (4mm)
#27224 US to IEC 320 C5 Angle AC Power Cord, 1m
#27308 Reedy Zappers LiPo 5400mAh 70C 7.4V Shorty
Photos courtesy of RedRC.net.
Team Associated - Champions by Design
Check out the Factory Team Spotlight!

---