Zappers Dominate FinTrack Tour Round 3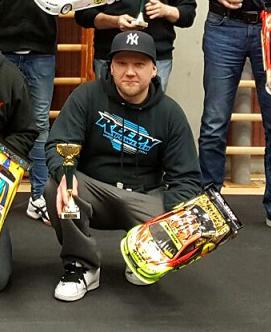 Round 3 of the Finnish TC Nationals took place just outside of the southwestern city of Kouvola. Nearly 100 entries were on hand for the two-day event that featured Touring Car and Formula classes.
In the Pro Stock 13.5 class, Reedy-powered cars of Kalle Lehto, Kim Elfstrom and Vesa Yli were battling closely for the top spots. Previous round winner Kalle Lehto eventually earned the TQ position, followed closely by Kim in second with Vesa earning a second-row start in fourth.
In the finals, Kalle took advantage of his pole position start to win in all three legs with his Reedy Zappers-equipped touring car. Kim finished a close second with Vesa moving up a spot to finish third and complete the 1-2-3 Reedy podium sweep!
With three rounds completed and one remaining, the 2017 Pro Stock championship comes down to a showdown between Kalle and Vesa -- the dominant drivers in the class over the last two years!
In the Stock 21.5 class, Miikka Luhta took home his first National victory after starting from second on the grid. Miikka now moves into the championship lead with this victory and two second-place finishes. Unlike the Pro Stock 13.5 class, the Stock 17.5 class championship continues with three more rounds outdoors to determine the champion.
Finally, the Formula class was won by Janne Valtanen with Reedy Zappers power and now leads the championship with three wins.
Reedy Products used
Miikka
#27301 Reedy Zappers 5600mAh 7.4V 100C
#27200EU Reedy 1216-C2 Dual AC/DC Charger
Vesa
#27301 Reedy Zappers 5600mAh 7.4V 100C
#27108 Reedy RS0806 LP Digital HV Servo
#27200EU Reedy 1216-C2 Dual AC/DC Charger
Kalle
#27308 Reedy Zappers LiPo 5400mAh 70C 7.4V Shorty
#27200EU Reedy 1216-C2 Dual AC/DC Balance
Kim
#27301 Reedy Zappers 5600mAh 7.4V 100C
Janne
#27308 Reedy Zappers LiPo 5400mAh 70C 7.4V Shorty
---