Reedy Power Victory at 12Track Tour Round 2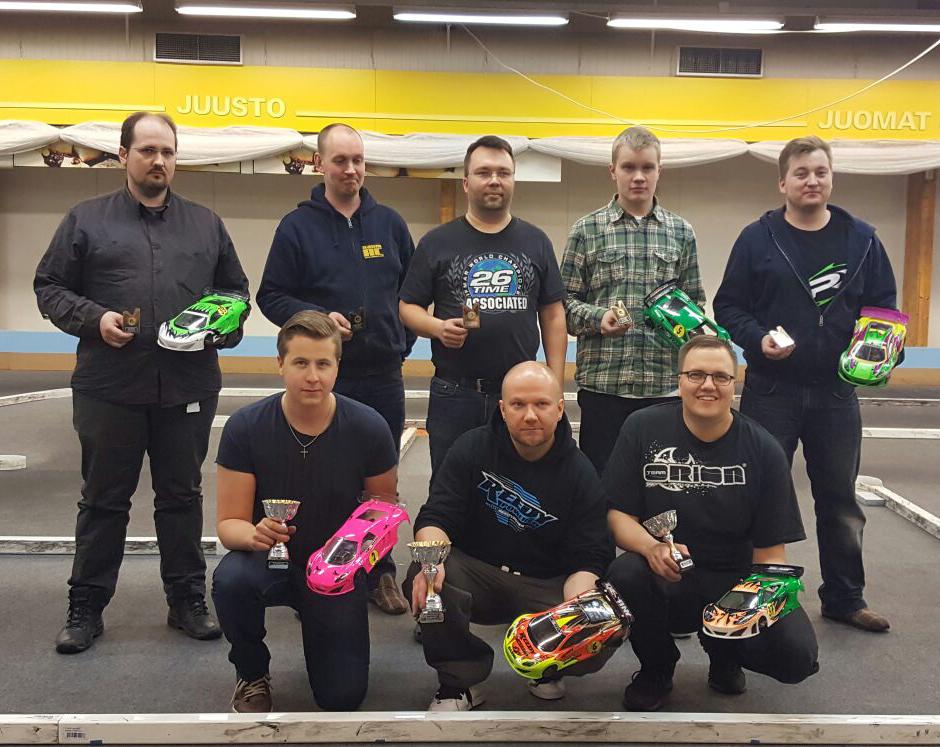 Round 2 of the 12Track Tour, the Finnish 1:12 national series, was hosted by the RaumRC club at the Eurajoki circuit. This is the second year in a row visiting this large and technically challenging track, which is built inside an old supermarket. A combination of driving and setup ability makes the venue perfectly suited for stock class racing.
The popularity of the 13.5T GT class has been steadily increasing, in part due to their realistic appearance, and has become one of the most popular classes in Finland. In qualifying, Manu Hakala, local young star and winner of Round 1, set the fastest time in the first three rounds closely followed by Vesa Yli and A-P Kyykka. As top Modified class drivers, both Vesa and A-P competed as "guests" in this class, as the rules limit participation to a maximum of two out of the four rounds that make up the series.
In the last qualifying round, Vesa set the new track record and secured a front row spot for the three-leg final with A-P on the grid in third. Only the fastest eight advanced to the A-final thanks to rules meant to enhance the quality of the racing and increase competition.
Vesa took advantage of a first lap mistake by Manu and won the first leg easily. The second leg featured a close battle between Manu and Vesa, which ended in Vesa's favor after pressuring Manu into a mistake. Because Vesa had clinched the victory he sat out leg three and witnessed a win by Manu followed by A-P in second. Manu therefore clinched the second position overall with A-P Kyykka completing the podium.
The 12Track Tour visits Oulu the last weekend of February for rounds three and four where this season's champion will be crowned!
Products used, Vesa Yli
#320 Reedy LiPo 8000mAh 70C 3.7V Competition Battery
#270 Reedy Sonic 540-M3 Motor SS 13.5 1S Spec
#27200EU Reedy 1216-C2 Dual AC/DC Balance Charger (EU)
Products used, A-P Kyykka
#320 Reedy LiPo 8000mAh 70C 3.7V Competition Battery
---