Hohwart and Caster go 1-2 at CTS2 Round 1!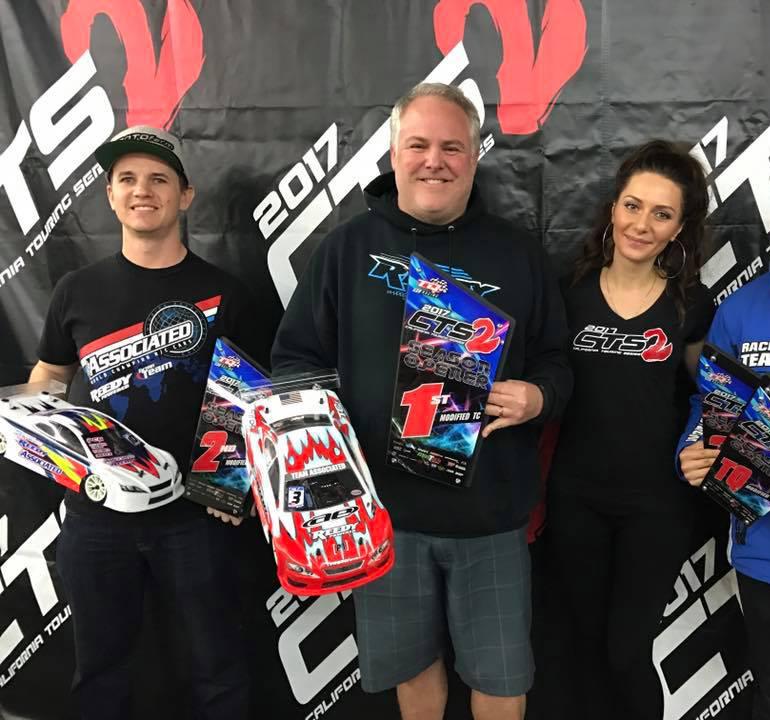 The long-anticipated second season of the California Touring Series (CTS) kicked off at TQ R/C Raceway's carpet track in Chino Hills with a hotly contested modified class featuring the region's top racers. The format called for two rounds of rocket round 5-minute qualifying with 6-minute single main events. The winner would receive 100 points with an additional point up for grabs for the top qualifier.
JJ Wang, now living in Southern California, set the fastest times during Saturday's practice sessions and carried this same speed advantage into qualifying where he set the fastest time to claim the pole position and earn the coveted bonus point. Rick Hohwart, Randy Caster, Eric Albano, EJ Evans, and Rocket Zhang qualified within one second of one another and started in that order behind JJ.
The start of the main was clean, with JJ leading the field until a mistake on lap two allowed Rick, Eric, Randy, and Rocket to slip past. Rick controlled the gap to second and went unchallenged to take the win with his Reedy-powered TC7.1. Caster crossed the line in second to secure the 1-2 finish for the AE/Reedy duo. JJ worked his way back through the field to claim the third spot on the podium.
The series now moves outdoors to the Roadrunners R/C Club in Camarillo for round two for more intense racing among California's best racers at one of California's premier tracks. Special thanks to Lex Tyler for organizing an outstanding event and to Sean Park and TQ R/C Raceway for providing the world-class racing facility!
Products used, Hohwart and Caster
#30121 TC7.1 Factory Team
#265 Reedy Sonic 540-M3 Motor 5.0 Modified
#27004 Blackbox 510R Competition ESC
#27108 Reedy RS0806 LP Digital HV Hi-Speed Competition Servo
#27200 Reedy 1216-C2 Dual AC/DC Competition Balance Charger
#27309 Reedy Zappers LiPo 6000mAh 100C 7.6V LP Stick
---