Cameron takes Buggy and Truggy in 1:8 Nitro Victorian Driver series Round 1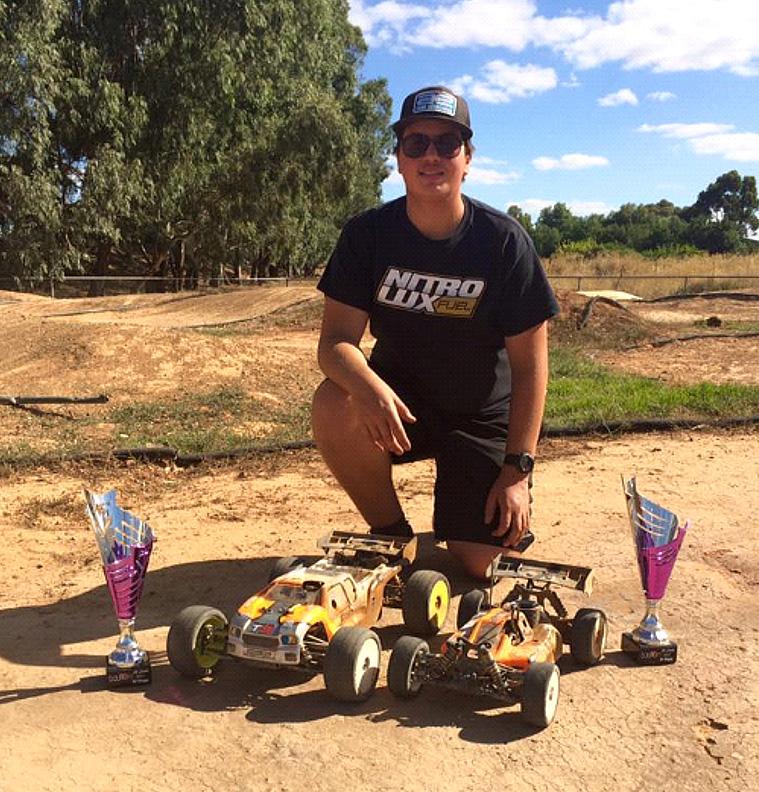 I had a great weekend at Bad RC in Bendigo for round one of the Victorian driver series. Dad and I arrived in Bendigo Saturday morning. When we arrived we saw the track had molasses put down on it, which was great for me, because I like high-bite tracks.
Sunday morning race day! When we got up, we heard a bit of rain coming through and I wasn't too happy. I was hoping that there wasn't so much rain that it would wash the grip away from the Saturday traffic. Unfortunately it did. Not having any practice runs, I made a small adjustment to the buggy. The car was on song. We left the truggy as it had been set up on Saturday and decided to go out in the first qualifier. The cars were great! I was able to take the double TQ in both classes. I was stoked.
In Truggy, It was a good racing until mid-race. Unfortunately, my good friend Liam Jones retired early during the race and I was able to pull a good lead on the pack to take the win.
Buggy was the same. Leading the race from the first lap I was getting nervous. Again a few drivers in my race retired early, which gave made me the opportunity to pull away from the rest of the field.
I am super happy with the Team Associated vehicles and Reedy electronics racing combo. I also thank my Dad for the fast pits stops and everything else.
Thanks to Cameron Zammit for this report.
Products used
#80914 RC8B3 Nitro Team Kit
#80917 RC8T3 Nitro Team Kit
#315 Reedy LiPo 2100mAh 7.4V RX/TX Battery
#27100 Reedy RS1206 Digital HV Hi-Speed Competition Servo
#27101 RT1508 Digital HV Hi-Torque Competition Servo
Team Associated - Champions by Design
Check out the Factory Team Spotlight!

---