Team Associated Sweeps 7 South Australian Titles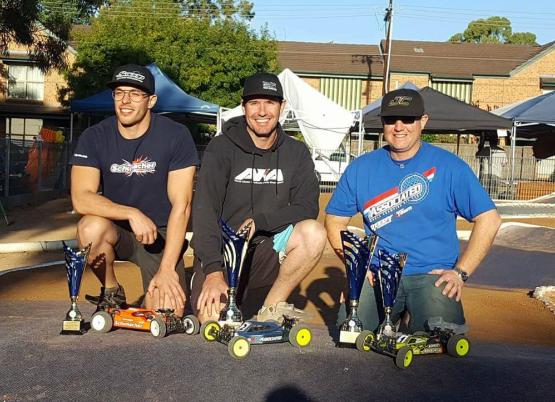 Team Associated completed a clean sweep of the 1:10 electric offroad 2017 South Australian titles, winning 7 out of 7 classes at the debut outdoor race for the new B64D 4WD!
Held at the Adelaide RC Raceway, it was the first SA titles in 17 years and over 140 entries were received from all around Australia. The club had prepared a challenging dirt track with many jumps and worked hard to prepare it through the weekend. The surface grooved up but had a narrow line and some bumps, making setup a challenge and Mother Nature cooperated with warm weather and sunshine.
2WD Mod
Ray Munday (B6D with Reedy power) took TQ from Josh Pain (B6D) and Matt Kellett (B6D with Reedy electronics). In the finals, Pain led Munday for a 1-2 for AE, while Matt Kellett was unlucky to miss the podium. 7 out of the 10 vehicles in the A final were B6Ds!
4WD Mod
Josh Pain took TQ and the win with his B64D, with Ray Munday finishing second with his B64D buggy with Reedy power for another AE 1-2. After only having the cars for a few days, the team worked hard on the setup in practice, with the results showing 7 out of the 10 A finalists driving the new B64D!
17.5
12-year-old Lachlan Donnelly was on fire, the Sydney Junior taking TQ and first in both 2WD 17.5 (B6D) and 4WD 17.5 (B64D) for his first state titles! In 4WD he won all four qualifiers and the first two finals, his B64D was undefeated all day. Kai Jaeger made the trek from Perth and also made the podium in both classes with his AE B6D and B64D buggies.
Truck Mod
This was a battle between AE Australia teammates Glen Bonetti and Matt Kellett. Bonetti took TQ and the win with his T5M from Kellett, while Daniel Kies took third for an AE podium sweep.
SCT
Matt Kellett and Mark Rogers (both driving SC5Ms with Reedy electronics) dominated this class all day, with Kellett taking the TQ and win after some intense racing!
Junior 17.5 (Under 16 2WD)
The AE domination continued! Kye Drust from Mildura took TQ and the win with his B6D from the event's fastest female, Jess May (B5M).
Thanks to the crew from the Adelaide RC Raceway for putting on a great event! Results are at www.arcr.org.au
Vehicles used
#70001 RC10T5M Team Kit
#70006 RC10SC5M Team Kit
#90000 RC10B5M Factory Lite
#90012 RC10B6D Team Kit
#90015 RC10B64D Team Kit
Reedy Products used
#27004 Blackbox 510R Competition ESC
#260 (for 2WD) Reedy Sonic 540-M3 Motor 7.5 Modified
#262 (for 4WD) Reedy Sonic 540-M3 Motor 6.5 Modified
#322 Reedy LiPo 5300mAh 70C 7.4V Shorty
#310 (for 2WD) Reedy LiPo 5700mAh 65C 7.4V Saddle Pack Comp. Battery
#27100 (for 4WD) Reedy RS1206 Digital HV Hi-Speed Competition Servo
#27108 (for 4WD) Reedy RS0806 LP Digital HV Hi-Speed Competition Servo
#27200 Reedy 1216-C2 Dual AC/DC Competition Balance Charger
Photos courtesy of Raymond Munday. Thanks to Raymond Munday for this report.
Team Associated - Champions by Design
Check out our Factory Team Spotlights!

---