Kyle McBride's double win at ACT Nitro State Championships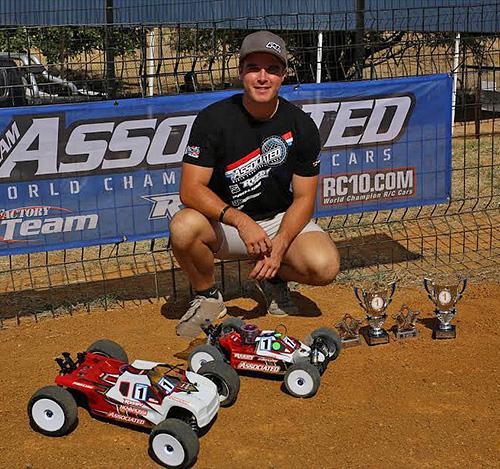 This past weekend my father and I attended the ACT State championships in Canberra, Australia. This is the same track where the final third round of the Australian Nationals is going to be held, so we decided it was a good idea to get some track time there. The Canberra track is always very good. The dirt they have always grooves up and never seems to break up, which makes for smooth and fast driving. We arrived on Friday for a day of open practice. The track started off loose but we knew the track was bound to end up being grooved towards the end of the day.
Qualifying on Saturday held six rounds of seven-minute qualifiers. From the get-go, my tires and engine were running faultless on my RC8B3 and RC8T3. At the end of the day I managed to secure the overall TQ for both classes and both my cars were absolutely on fire; they were awesome to drive!
Sunday held a 10-minute warmup for each class. The track was getting higher and higher in traction. I had a near-perfect start in both finals for truck and buggy. I got away cleanly from the pack in the first five minutes and after that went on to cruise for 45 minutes in each to take the double win for the weekend!
Products used by McBride
#80914 RC8B3 Nitro Team Kit
#80917 RC8T3 Nitro Team Kit
#315 Reedy LiPo 2100mAh 7.4V RX/TX Battery
#324 Reedy 2100mah 20C 14.8V Lipo Starter Box Battery
#27107 Reedy RT2207A Digital HV Hi-Torque Aluminum Competition Servo
#27200 Reedy 1216-C2 Dual AC/DC Competition Balance Charger
#1751 FT Compact Starter Box
#1738 FT Glow Starter
Photos courtesy of Kyle McBride. Thanks to Kyle McBride for this report.
Team Associated - Champions by Design
Check out the Factory Team Spotlight!

---