Hebert Wins Canadian Nationals!
Tuesday, Mar 28, 2017 at 12:00am CDT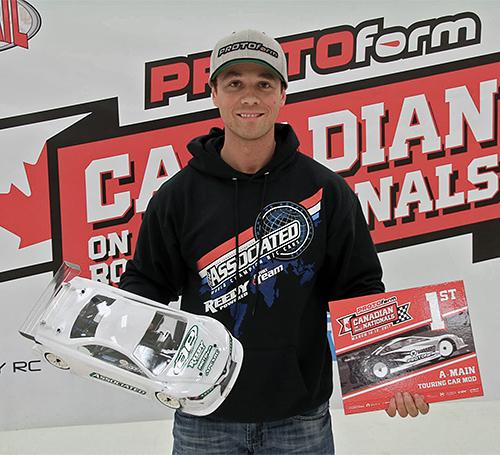 The 2017 Canadian Nationals once again returned to the Seaway Mall in Welland, Ontario for what has become one of the biggest on-road competitions in North America. An enlarged track in a closed department store within the mall housed a huge 120' x 60' surface and a record 462 entries!
Fresh of his victory at the ROAR Nationals, Keven Hébert again showed why he is the best 1:12 driver in the country by qualifying on the pole position and taking the wire-to-wire win with his Reedy-powered 12R6.
Modified TC was a bit more challenging for Keven as he would have to find a way around TQ Josh Cyrul from the second grid spot. Just past halfway, a fierce battle ensued between the two and third qualifier Martin Crisp. But in the end, Keven prevailed for his second championship of the weekend.
Special thanks to organizers Mark Frechette and Mike Wilson for making this event possible, and congratulations to all the winners!
Products used, Modified 1/12
#262 Reedy Sonic 540-M3 Motor 6.5 Modified
#320 Reedy LiPo 8000mAh 70C 3.7V Competition Battery
#27005 Blackbox 510R Competition ESC w/PROgrammer 2
Products used, Modified TC
#30121 TC7.1 Factory Team
#265 Reedy Sonic 540-M3 Motor 5.0 Modified
#27005 Blackbox 510R Competition ESC w/PROgrammer 2
#27108 Reedy RS0806 LP Digital HV Hi-Speed Competition Servo
#27309 Reedy Zappers LiPo 6000mAh 100C 7.6V LP Stick
Team Associated - Champions by Design
Check out our Factory Team Spotlights!

---