Team Associated / Reedy Sweep Modified Buggy Classes at Round 1 Victorian Drivers Series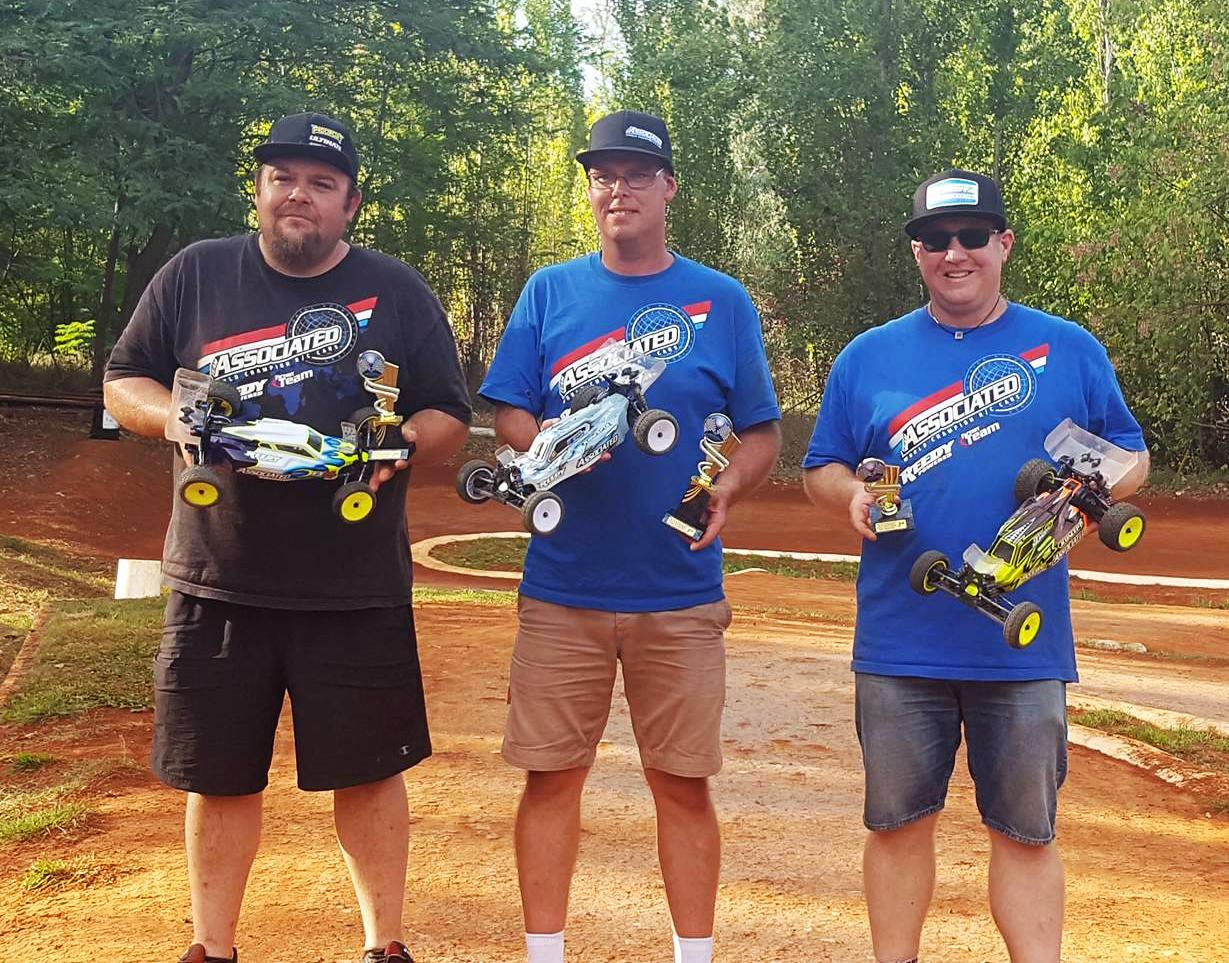 Mark Rogers in 2WD and Ray Munday in 4WD led Team Associated and Reedy to a sweep of the Modified Buggy classes in Round 1 of the Victorian Drivers Series in Australia. Held in the regional town of Wodonga, over 90 entries raced on the fantastic red clay outdoor track prepped by the small but enthusiastic club.
2WD Modified
AE/Reedy factory driver Ray Munday took TQ with his Reedy-powered B6D. In the finals it was a three-way battle between Ray, Matt Griffin (B6D) and Mark Rogers (B6D). With three nail-biting position changes in the last lap, Mark Rogers emerged a popular winner with his Reedy-equipped B6D, with Matt and Ray taking a podium sweep for AE! Nine out of the top ten buggies were AE B6Ds.
4WD Modified
Matt Griffin took TQ with his B64D. In the finals, Matt, Ray (B64D/Reedy) and Anthony Campbell (B64D) took a win each, with Ray taking the overall win from Matt and Anthony. Nine out of the ten A finalists were using the new B64D.
Special mention to three AE junior racers who made A finals in both 2WD and 4WD: Carter Sims (13), Jordan Isergin (12), and Lachlan Munday (11). It won't be long until they are on the buggy podium! In addition, Jordan placed third overall in the Modified Truck class with his T5M.
Thanks to the volunteers from the Wodonga RC club for putting on a fantastic event!
Products used or mentioned
#90012 RC10B6D Team Kit
#90015 RC10B64D Team Kit
#70001 RC10T5M Team Kit
#27004 Blackbox 510R Competition ESC
#262 Reedy Sonic 540-M3 Motor 6.5 Modified
#260 Reedy Sonic 540-M3 Motor 7.5 Modified
#27100 Reedy RS1206 Digital HV Hi-Speed Competition Servo
#27200 Reedy 1216-C2 Dual AC/DC Competition Balance Charger
#322 Reedy LiPo 5300mAh 70C 7.4V Shorty
Setup Sheet

Photos courtesy of Ray Munday. Thanks to Ray Munday for this report.
Team Associated - Champions by Design
Check out our Factory Team Spotlights!

---