Podium Finish for Team Associated F6 Debut!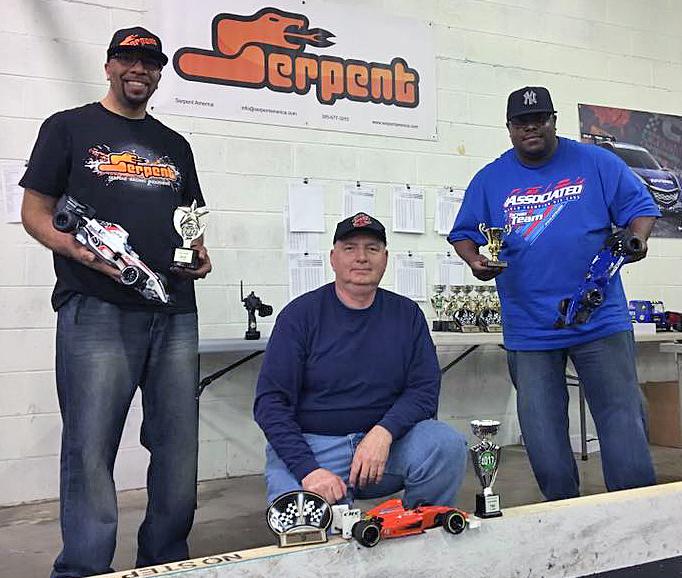 This past Friday and Saturday I traveled to Springfield, OH to compete in the first Nobody's Fool Trophy Race. The event was a first for promoter Von Perry and Access Hobbies. It was more laid back and had a sense of "kiddie" feel. That might be due to it also being Mr Perry's birthday event. They had cake, pizza, and singing, and gave out some very funny awards during the event, like Clown of the Day, First to Break, Cry Baby, and Fastest Lap. It was all in good fun and a cool way to celebrate a birthday.
Even with all the "fun," racers traveled from as far as TN, PA, MI, KY, IN, IL, NY, and others to compete in some very fast and competitive onroad racing on CRC Black carpet. Friday was open for practice and Saturday would be the event.
Teammate Will Sheffield and I came to debut some new products for AE and Reedy Powered and put them in the "show" (A Main). We brought along the new RC10F6 and the new ROAR Spec Reedy M3 25.5 to run VTA and F1 with. The layout was a good size and gearing and setup was going to make a huge difference. With neither of us ever running F1 (not to mention just completing the build a day prior to the event), it was going to be an all-day learning curve. But running the box setup with the Reedy Powered M3 25.5 ROAR Spec, the car was very easy to drive. Not only did it make the A Main, but ended with a podium finish.
I was able to take a USGT TC7.1 with a Reedy Powered M3 21.5 motor to take the TQ spot in round 3. Luck wasn't on my side in the main, though, as lap traffic caused a mistake, allowing the birthday boy Von Perry to take the win -- but I was still able to secure second place.
I was able to secure TQ again, now in VTA round 3. This time I wouldn't let anything stop me from running the Reedy Powered M3 25.5 ROAR Spec. The now all Reedy-powered TC7.1 was unstoppable, taking a wire-to-wire victory.
The new line of racing equipment from AE and Reedy Powered will be back to try racking up more wins next weekend at the 2017 USVTA Scale Nationals in Windy City -- Chicago, IL.
Products used
#8023 RC10F6 Factory Team
#30121 TC7.1 Factory Team
#253 Reedy Sonic 540-M3 Motor 21.5 Spec
#287 Reedy Sonic 540-M3 Motor 25.5 ROAR Spec
Photos courtesy of Myron Kinnard. Thanks to Myron BATMAN Kinnard for this report.
Team Associated - Champions by Design
Check out our Factory Team Spotlights!

---