Team Associated's Davide Ongaro Wins NEO17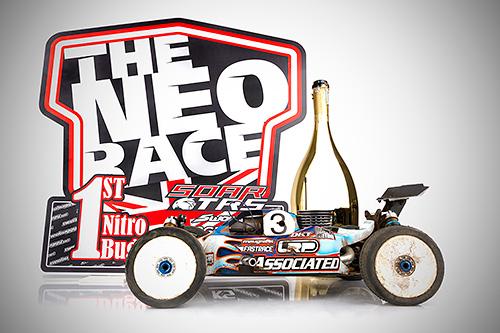 Easter weekend means many things, but to those who are at the top of 1:8 off road it means NEO weekend. For the 12th year in a row racers gathered from around the world to compete at the event dubbed "The Indoor Worlds." Hosted by the popular website neobuggy.net, NEO17 took place at Harper Adams University in the western region of England. Featuring an indoor clay surface prepped by the DXR club of racers, NEO17 challenged both driver and machine with multiple jump combinations, whoops and a cross-over.
On Sunday morning, Richard Saxton led a tutorial for some of the competitors at NEO17. In addition, 2015 2WD IFMAR World Champion Spencer Rivkin joined him to go over some basic tips for building shocks, diffs and other key components of the RC8B3.1.
During controlled practice heats, Team Associated's latest driver from Italy, Davide Ongaro, topped the practice sheets in round 1, with first-time attendee Spencer Rivkin also cracking the top three. Needless to say, the team was off to a good start. As the event continued, fellow teammates Ryan Cavalieri and Neil Cragg joined Ongaro and Rivkin as direct qualifiers in to the semi-finals. Unfortunately, both Cavalieri and Rivkin fell out of the semi while in transfer positions; however, Ongaro earned a third-place starting position for the Grand Final while Cragg squeaked into 15th and final position on the grid.
As the flag dropped for the start of the 45-minute final, Ongaro was able to keep pace with the front of the field as Cragg capitalized on a multi-car crash to jump in to the top ten. As the time counted down the pace stabilized, and it was young 16-year-old Davide Ongaro who led the field with his RC8B3.1. Potential tragedy struck when Ongaro got collected with a back marker and tore off the right side of his Lexan wing. After a few laps to feel it out, it was clear Ongaro was in the zone and the damaged wing wasn't affecting his performance. Building his lead to over 15 seconds at 30 minutes into the final, the victory was almost a certainty -- until the other side of his wing came off! Again, the young Italian looked unaffected as he continued to pull away from the competition to win NEO17 on his own victory lap. This wasn't Davide's first victory of the weekend. He also took the win in the under 18, Juniors Final two days before, and finished second in eBuggy.
Congratulations to Davide, his father and mechanic Mauro, and the entire support team that got Davide to the top step of the podium at one of the most prestigious events on the calendar. #WeAreAE
Products used
#80935 RC8B3.1 Nitro Team Kit
#80936 RC8B3e.1 Team Kit
Team Associated - Champions by Design
Check out our Factory Team Spotlights!

---