Knox Cup wins for Team Associated and Reedy
Friday, May 5, 2017 at 12:00am CDT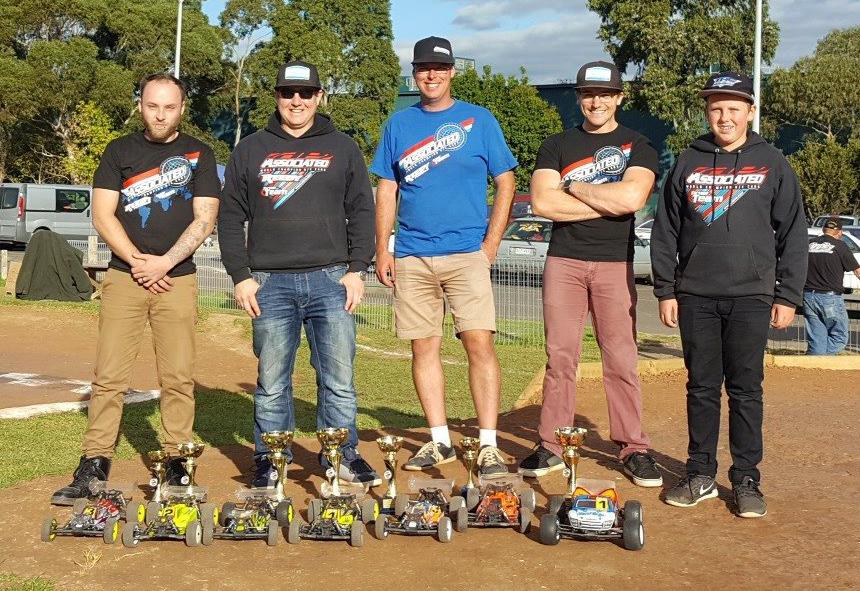 Round 2 of the Victorian Drivers Series saw over 100 entries race at the Knox club in the South Eastern suburbs of Melbourne. The club had recently laid down a new clay surface -- which received over 80mm of rain just before the event. Thanks to hard work from the club, the track was fantastic for the event, providing a low-wear, consistent race surface akin to an indoor track.
The Modified 2WD and 4WD Buggy classes were dominated by Team Associated/Reedy drivers, with factory driver Ray Munday taking TQ and winning all three mains of each class with his B6D and B64D buggies for a perfect score for the weekend! Andrew Selvaggi (AE/Hobbywing) and Matt Kellett (AE/Reedy) were close behind for a Team Associated podium sweep in both 2WD and 4WD Modified. Six out of the ten A finalists in 2WD Modified used B6Ds and eight out of the 4WD Modified A finalists were driving the B64D!
The Modified Truck class was taken out by 12-year-old gun Jordan Isergin driving a T5M, giving AE a sweep of all modified classes.
The AE junior drivers all represented strongly with Lachlan Munday (2WD), Jordan Isergin (4WD), and Carter Sims (4WD) all making modified A finals against deep fields.
Thanks to the club for putting on a fantastic event and thanks to Team Associated and Reedy for their incredible products and support!
Products used
#90012 RC10B6D Team Kit
#90015 RC10B64D Team Kit
#70001 RC10T5M Team Kit
#260 Reedy Sonic 540-M3 Motor 7.5 Modified
#262 Reedy Sonic 540-M3 Motor 6.5 Modified
#310 Reedy Lipo 5700mAh Saddle Pack
#322 Reedy LiPo 5300mAh 70C 7.4V Shorty
#27004 Blackbox 510R Competition ESC
#27100 Reedy RS1206 Digital HV Hi-Speed Competition Servo
#27200 Reedy 1216-C2 Dual AC/DC Competition Balance Charger
Photos courtesy of Raymond Munday. Thanks to Raymond Munday for this report.
Team Associated - Champions by Design
Check out our Factory Team Spotlights!

---