McBride Takes Double TQ and Double Win at the Australian Nationals Series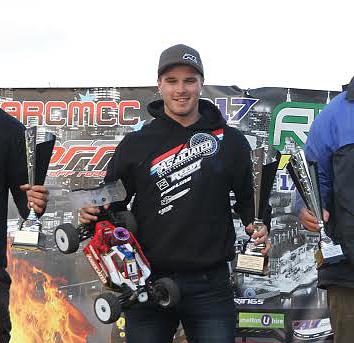 This past weekend my father and I attended Round 2 of the Australian Nationals Series. The weekend held almost 200 entries competing in the 1/8 Buggy and Truck races over the four days in Melbourne, Australia.
Thursday held two rounds of practice and the first round of qualifying. The track was very hard packed. I got started with an awesome round one and managed to take both TQ's in each round.
Friday held four more rounds of qualifying where I would have the chance to take the overall TQ in both. Both my Team Associated RC8B3 and T3 were working great as the track began to increase in traction. By the end of the day I managed to smash the field and take the overall TQ in both Buggy and Truck!
The weekend was finals. Right before the big final it started to rain so I went out on a risk and decided to put Pro-Line Electro Shots on my truck for the one hour. This turned out to be an excellent choice as halfway through the race more and more rain came, but I had stretched myself out to a few laps' lead over the whole field. The event organizers decided to cut the race down to 45 minutes due to the track getting dangerous for marshals. I took the overall win with my Team Associated RC8T3.
On Sunday I cruised to an easy win in the semi-final with my Team Associated RC8B3.1 to put myself on pole for the long, one-hour main ahead. I got off to an awesome start and never looked back. My package was beyond perfect and I smashed the field and led from tone to tone to take the double TQ and double win at the Australian Nationals Round 2!
Products used
#80935 RC8B3.1 Nitro Team Kit
#80917 RC8T3 Nitro Team Kit
#27107 Reedy RT2207A Digital HV Hi-Torque Aluminum Competition Servo
#315 Reedy LiPo 2100mAh 7.4V RX/TX Battery
#324 Reedy 2100mAh 20C 14.8V LiPo Starter Box Battery
#1751 FT Compact Starter Box
#1738 FT Glow Starter
Photos courtesy of Kyle McBride. Thanks to Kyle McBride for this report.
Team Associated - Champions by Design
Check out our Factory Team Spotlights!

---