Team Associated Wins 7 Classes at the JConcepts Spring Indoor Nationals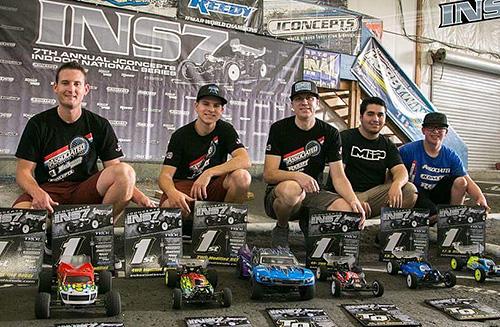 Round #2 of the 2017 JConcepts Indoor Nationals made its annual stop at Tacoma R/C Raceway in Tacoma, WA for the Spring Indoor Nationals. Now in its seventh year of existence, the popular series continues to draw racers from all over the country. Team Associated was lead by four-time World Champion Ryan Cavalieri, who made his first trip to Tacoma R/C Raceway. Also making the trip to the Pacific Northwest was reigning 2WD World Champion Spencer Rivkin, Reedy Powered's Dustin Evans, and Team Manager Brent Thielke.
260+ entries enjoyed a fast-paced event, what with three qualifiers, extended A mains, and triple A mains for the two premier classes, 2WD and 4WD Modified. Keeping everything on schedule was track owner and former ROAR 4WD National Champion, Scott Brown.
After a slow start for him, Ryan Cavalieri dropped the hammer in qualifying and secured the top qualifying position in 2WD, 4WD and Truck Modified. Also taking a TQ was Spencer Rivkin in Modified 2WD Short Course, Brent Thielke in 40+ 2WD Buggy, Rudy Rico in 13.5 4WD Buggy, and Dreighton Stoub in 17.5 2WD Buggy.
With great races throughout the main events, all of the top qualifiers were able to convert their qualifying positions into victories. Although a few up-and-coming Team Associated drivers didn't get victories, they turned in highlight performances: Harley Yoshi, Luke Smith, Kamryn Ayers, Aydin and Austin Horne. Keep up the great work, team! #WeAreAE
Vehicles used
#90011 RC10B6 Team Kit
#90015 RC10B64D Team Kit
#70001 RC10T5M Team Kit
#70006 RC10SC5M Team Kit
Reedy products used
#254 Reedy Sonic 540-M3 Motor 17.5 Spec
#255 Reedy Sonic 540-M3 Motor 13.5 Spec
#260 Reedy Sonic 540-M3 Motor 7.5 Modified
#273 Reedy 540-M3 Spec Rotor, 12.5 x 7.25 x 25.3
#315 Reedy LiPo 2100mAh 7.4V RX/TX Battery
#27306 Reedy Zappers 4400mAh 7.4V 100C Shorty
#27308 Reedy Zappers LiPo 5400mAh 70C 7.4V Shorty
#27004 Blackbox 510R Competition ESC
#27027 Blackbox PROgrammer 2
#27028 Blackbox 30x30x7mm Fan, w/screws
#27100 Reedy RS1206 Digital HV Hi-Speed Competition Servo
#27101 RT1508 Digital HV Hi-Torque Competition Servo
#27200 Reedy 1216-C2 Dual AC/DC Competition Balance Charger
#794 Reedy Low Profile Caged Bullets, 5x14 mm, qty 2
#996 5mm 1S-2S Balance Charge Lead with SP Clip
#27220 Reedy 7-in-1 Charge Lead (4mm)
Photo courtesy of JConcepts.
Team Associated - Champions by Design
Check out our Factory Team Spotlights!

---