Hohwart Wins California Touring Series Championship!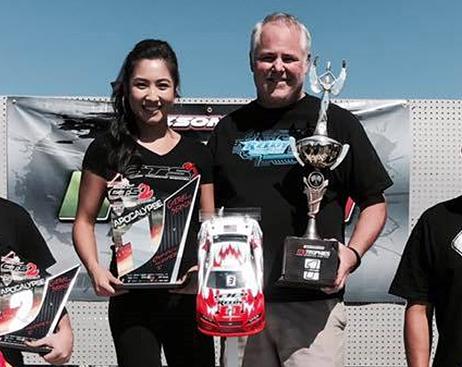 The 2017 California Touring Series (CTS2) visited Speedworld Raceway in Roseville for the sixth and final round of the championship. Going into the final round, Rick Hohwart led the series by a healthy margin with 2016 champion Eric Albano the only other driver with a mathematical chance to overtake the series leader.
Like most of the season these two found themselves fighting it out at the front of the pack. Less than a second separated the two with Eric and Rick lining up second and third on the grid for the 5-minute A-Main showdown.
Polesitter Brandon Clements made a perfect start and was never to be seen again, leading wire-to-wire for his first win of the season. Unfortunately for Albano, a small error on lap one let Hohwart past and eliminated any chance for a second straight CTS title. Only needing to finish, Rick cruised to a podium finish and the 2017 CTS2 Championship title with his Reedy-powered TC7.1. EJ Evans's second place finish moved him into third in the final standings.
Special thanks to Speedworld Raceway for hosting the event, and to Lex Tyler for creating and promoting the CTS concept!
Products used
#266 Reedy Sonic 540-M3 4.5
#27005 Reedy Blackbox 510R Competition ESC
#27108 Reedy RS0806 Low-Profile Servo
#27200 Reedy 1216-C2 Competition Charger
#27309 Reedy Zappers 100C 6000mAh 7.6V LP
#30121 AE TC7.1 Factory Team
(Photo courtesy CTS)
---