Kyle McBride takes his 4th FEMCA Championship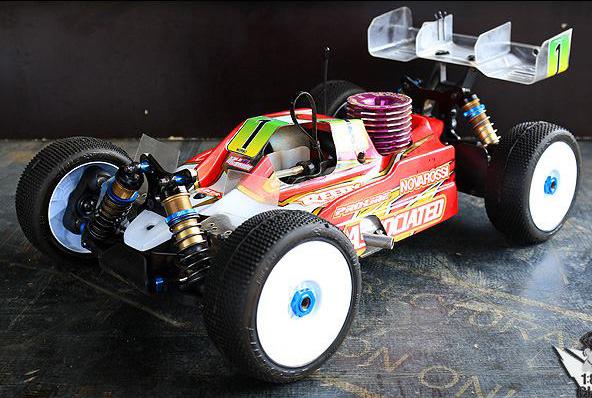 This past weekend I attended the yearly FEMCA Championship in Perth at the M.O.R.B.C track, where the 2018 IFMAR World Championships are going to be held.
The event drew in many of the best drivers from Australia and Asia -- over 100 entries for the event -- featuring 1:8 Nitro and 1:8 EP Buggy classes.
We arrived at the track on Wednesday ready to begin practice with my Team Associated RC8B3.1 and RC8B3.1e. The track always starts over a little loose, but with plenty of cars going around, we knew from past experience that the groove would begin to take shape and the grip would increase.
Thursday held two rounds of nitro practice along with two rounds of practice for the EP buggies. We found a great setup with my nitro car and decided to copy it onto my EP Buggy -- which ended up working out great, with only a few small tweaks to be made to the B3.1e! Round 1 began and I had a very unlucky qualifier with my nitro buggy; getting caught with some other drivers cost me the TQ and put me to second. In EP I had a stellar run and took the first-round TQ.
Friday came and I was feeling very confident with my cars. After qualifying was finished I managed to take the double TQ. My Team Associated vehicles would sit on pole for the nitro semi final and top of the A Main for the three EP finals.
Sunday came and I managed to take 1:8 Electric by winning A1 and A2 of the 10-minute finals by a large margin. We went out for the semi practice and the track's grip had come up quite a lot since qualifying, so we decided to make a few changes to my B3 to make it easier to drive. I had an awesome start to my Semi final and managed to gap the field and take the win in the 30-minute race by two laps and would sit on pole for the A final.
The buzzer went and we were away for the long 1-hour final. I had probably one of the best starts of my career for this particular race and had gapped the whole field within four laps and began to lap some cars. My Team Associated RC8B3.1 took me to an awesome victory of over three laps by the end of the 1-hour final. This gave me the fourth FEMCA Championship of my career, which felt amazing. Thank you very much to all of my sponsors for the continuous support -- and here's to another win!
Products used
#80935 RC8B3.1 Nitro Team Kit
#80936 RC8B3.1e Team Kit
#324 Reedy 2100mah 20C 14.8V LiPo Starter Box Battery
#325 Reedy LiPo 5200mah 55 C 14.8V
#27107 Reedy RT2207A Digital HV Hi-Torque Aluminum Competition Servo
#27313 Reedy Lipo Pro TX/RX 2400mah Lipo Battery
#1738 FT Glow Starter
#1747 Fuel Bottle Pro, 500cc
#1751 FT Compact Starter Box
Setup Sheets



Photos courtesy of Kyle McBride. Thanks to Kyle McBride for this report.
Team Associated - Champions by Design
Check out our Factory Team Spotlights!

---