AE takes TQ and Win 1-2-3 in USVTA
Thursday, Dec 7, 2017 at 12:00am CST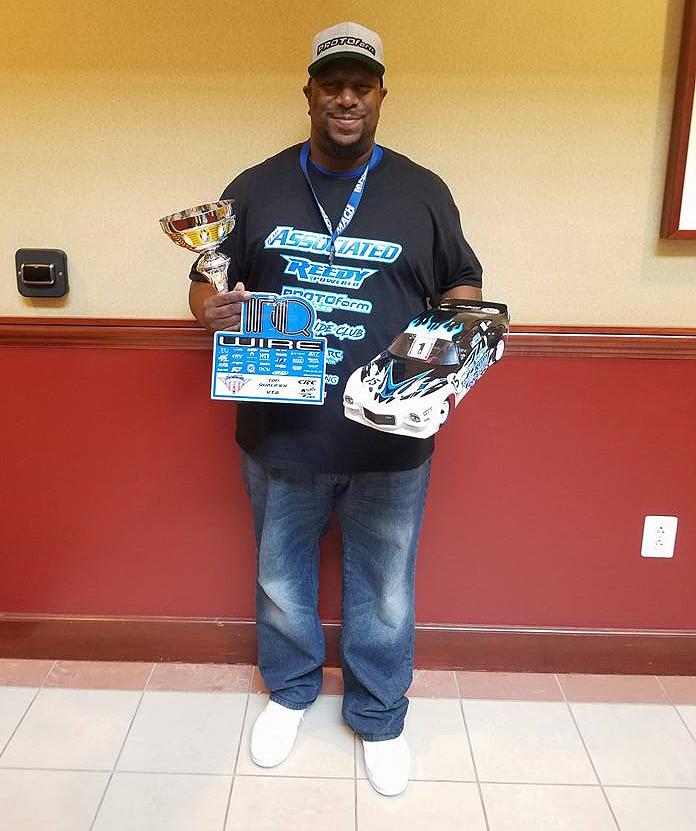 The 2017 U.S. Indoor Champs was held this past Thanksgiving weekend at the Embassy Suite Hotel outside Cleveland, Ohio. It is one of the oldest onroad carpet events with almost 40 years under its belt. The event has become more popular over the last few years, with entry count going over the 400 mark, this year reaching 496, just a few shy of 500. And this is all onroad carpet racing, with classes ranging from the likes of F1, WGT-R, Mod TC, and VTA, even a special return to foam Mod TC.
Team Associated and Reedy Powered were in attendance with team drivers from Canada and the US, running multiple classes across the board. Testing and practice was all day Thanksgiving Day.
Friday morning started qualifying with Vintage Trans-Am up front. AE had a good group running the VTA class like Ken Pepe, Tom the Postman, Adam Hutchinson, Will Sheffield, and myself (Byron Kinnard). After some very good racing by current USVTA National Champion Adam Hutchinson, TQ was his for the first two rounds of qualifying. Tom, Ken and I all made the top 10, with Will pulling up to 13th overall.
Saturday rolled around, as well as traction. Changes were needed to make a move on TQ. The traction was good enough that the rear stayed planted in the 180's. At the start of the 3rd qualifier I pulled out a great run, which gave me TQ. The run was so great that the top three were pulled and tech'd and a complete motor teardown was done. This was the only class to have this done all weekend.
By round 4 the excitement was overwhelming because the spread of cars 1-15 were all on the same lap (20), and cars 16-27 (19), and 18 for the rest of the 40 cars, so it was anybody's ball game. But with a steady wheel and a determination like no other I pulled a duplicate from round 3. Another 20/5:01 with 98% and new TQ. Teammates Adam, Tom and Will all were able to make the A Main, all on 20 lappers.
Sunday was the main event. Will Sheffield had put in over four hours of track time and setup Saturday nite and Sunday morning, pushing his driving and car to the limit. At the start I knew I needed to pull away before the first corner, and with a slight adjustment in my normal drive line, I was able to do so. Clean start and another 20/5:01 with 98% insured the Championship that I lost last year by less than .0082 would not be a repeat. I turned in three identical runs back to back to back to finally take home the USIC VTA title with TQ. With two of my teammates right behind me making it a clean sweep for AE: Tom second and Will third.
Products used
#30121 TC7.1 Factory Team
#27004 Blackbox 510R Competition ESC
#27108 Reedy RS0806 LP Digital HV Hi-Speed Competition Servo
#287 Reedy Sonic 540-M3 Motor 25.5 ROAR Spec
Photos courtesy of Byron Kinnard. Thanks to Myron Kinnard for this report.
---