Team Associated Wins 7 at JConcepts Indoor Series Finale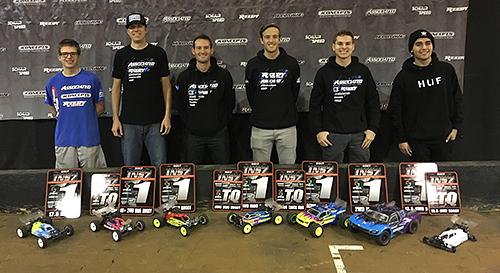 The finale of the five-race JConcepts Indoor National Series concluded this past weekend at Speed RC in Mooresville, NC, just north of Charlotte, where Team Associated came away with an impressive seven wins. The 95' x 48' indoor dirt track featured a flowing and high-grip race track where racers from around the country battled it out for final series points.
In the 2WD Modified Buggy class it was Team Associated's Ryan Cavalieri who won A1 and A3 with his B6 to take the win, while Dustin Evans won the just-as-competitive 4WD Modified Buggy class with his Reedy-powered B64D. Evans also fought back from a poor start to win the 2WD Truck Modified class with his Reedy-powered T5M ahead of teammate Ryan Cavalieri.
In the fourth modified class, Spencer Rivkin battled with teammate Alex Kosciuszek in their Reedy-powered SC5Ms for the 2WD Modified SCT win that saw Rivkin come out on top in the single 8-minute main event. Not to be left out of the winner's circle, Brent Thielke completed the TQ and win in 40+ 2WD Modified Buggy with his Reedy-powered B6. Also taking victories for Team Associated were the B6 of Dreighton Stoub in 17.5 2WD Buggy and the B64D of Rudy Rico in 13.5 4WD Buggy.
Thanks to Scott and Amanda Speed for the wonderful facility and event along with JConcepts and Jason Ruona for building the Indoor National Series into one of the premiere collections of events. Make your plans now for the 2018 finals back at the all-new, purpose-built Speed RC, just blocks from their current location. You can bet Team Associated will be there to defend the titles.
Products used
#90011 RC10B6 Team Kit
#90015 RC10B64D Team Kit
#70001 RC10T5M Team Kit
#70006 RC10SC5M Team Kit
#260 Reedy Sonic 540-M3 Motor 7.5 Modified
#262 Reedy Sonic 540-M3 Motor 6.5 Modified
#273 Reedy 540-M3 Spec Rotor, 12.5 x 7.25 x 25.3
#27004 Blackbox 510R Competition ESC
#27109 Reedy RT1408 LP Digital HV Hi-Torque Competition Servo
#27200 Reedy 1216-C2 Dual AC/DC Competition Balance Charger
#27307 Reedy Zappers LiPo 5800mAh 70C 7.6V Shorty
Team Associated - Champions by Design
Check out our Factory Team Spotlights!

---