Team Associated's Paul Wynn and TJ Bradley Win at JConcepts Super Cup!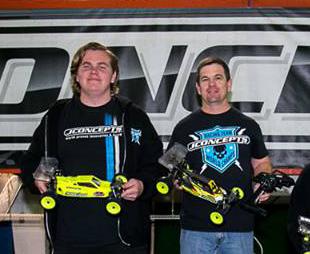 The 2018 JConcepts Super Cup series kicked off this past weekend at Beachline Raceway located in Cocoa Beach, FL. Round one always brings out some of the fastest from the southeast region as it kicks off the New Year. With 240 entries, racing was action-packed on the unique AstroTurf surface with intense traction and plenty of jumps.
Team Associated/Reedy Power teammates Paul Wynn and Lee Setser went 1 and 2 with their JConcepts-equipped/ Reedy-powered RC10B6 buggies in the premier 2WD Modified class. Team Associated's TJ Bradley also made a statement in the highly contested 2WD Expert Stock class by taking the win by 5.5 seconds with his RC10B6 buggy.
Special thanks to JConcepts for the amazing series and Beachline Raceway and track crew for a first-class indoor facility in central Florida.
Products used
#90011 RC10B6 Team Kit
#260 Reedy Sonic 540-M3 Motor 7.5 Modified
#262 Reedy Sonic 540-M3 Motor 6.5 Modified
#27004 Blackbox 510R Competition ESC
#27101 Reedy RT1508 Digital HV Hi-Torque Competition Servo
#27200 Reedy 1216-C2 Dual AC/DC Competition Balance Charger
#27323 Reedy Zappers SG 5800mAh 80C 7.6V Shorty
Photos courtesy of Paul Wynn. Thanks to Paul Wynn for this report.
Team Associated - Champions by Design
---