Team Associated/Reedy takes Bash at the Beach 2018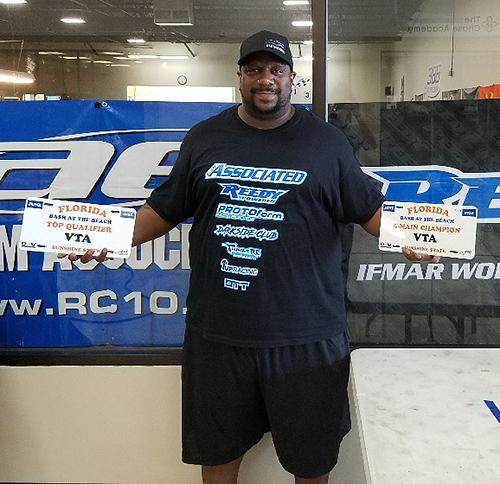 This past weekend I traveled to beautiful sunny Florida to compete at the Bash at the Beach DAV Charity Event hosted by Chris Crowder and 386 RC Raceway inside the Sunshine mall. The track is run by a great group of racers and track owner Chris Crowder, with a really good layout of medium to high traction. 386 RC Raceway has a hobbyshop and concessions run by the track.
The event had classes from Euro/Semi truck to 17.5 TC, and an Invite class. But the largest class by far was the USVTA class. Some of the top Florida and Carolina VTA drivers were on hand including a ROAR VTA Champ as well.
We had a good day of practice on Friday. I was running my Team Associated TC7.1 with the added brass arm mount inserts (#31661 and #31662). It allowed me remove weight from other parts of the chassis. VTA is 1450 grams, and I was 1452 with the Reedy Powered Blackbox 510, Sonic M3 25.5, Zapper SG 6000, LP High Speed Servo, and the new HV Motor Fan. My car was dialed to the layout and up to speed.
For Saturday qualifying, I managed to place third on the grid in third place.
Sunday morning was do-it-only day. After coming so close on the previous qualifier, I knew the only way to beat these guys was to make magic happen. So for the last chance qualifier, I pulled a 99% consistency and a 28-lapper to finally take the all-important Top Qualifier.
But the day wasn't won yet. We were scheduled for a solid 8-minute main with ten full ready-to-go VTA drivers. Sitting in the TQ spot all I had to do was make it into turn 1 and 2. My infield game was untouchable and my Reedy Powered TC7.1 made sure that we would sit in the winner's circle again. With eight long minutes anything can happen, but with a positive mind and steady hand I was able to go tone to tone, and take home the TQ and Championship.
Products used
#30121 TC7.1 Factory Team
#27004 Reedy Blackbox 510R Competition ESC
#287 Reedy Sonic 540-M3 Motor 25.5 ROAR Spec
#27321 Reedy Zappers SG 6000mAh 110C 7.6V LP Stick
#27108 Reedy RS0806 LP Digital HV Hi-Speed Competition Servo
#27423 Reedy HV Motor Fan, with 195mm extension
Photos courtesy of Myron "Battman" Kinnard. Thanks to Myron for this report.
Team Associated - Champions by Design
---