McBride takes Queensland State Championships with his RC8B3.1 buggy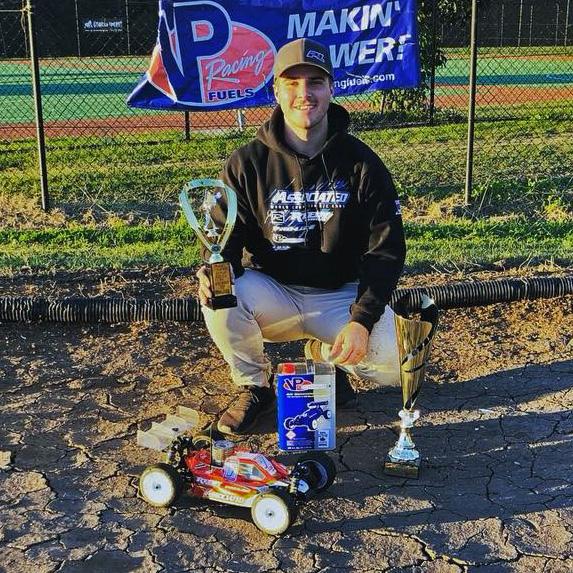 Over the weekend I attended the 2018 Queensland State Championships at one of my home tracks, the Pine Hills Dirt Racing Club. The race was held over the weekend, with some practice on Friday afternoon. Unfortunately, due to some rain we were unable to practice until late on Friday night and the track was still very wet and tacky.
Come Saturday the track had received more rain the previous night, but with the club putting in plenty of effort to dry and prep the track, we were under way by about lunch time. I had a very successful qualifying with my Team Associated RC8B3.1. I took the first three rounds of qualifying, giving me the overall TQ. I decided to sit out the last (fourth) round of qualifying and go home to get some rest before finals day on Sunday.
Sunday showed some beautiful sunshine in the morning and we were looking good for the rest of the day. The Buggy A-Main drivers were gifted one 10-minute practice before the main 45-minute showdown. With plenty of cars running on the track during the lower finals and with the sun shining, the track's traction had increased immensely compared to the previous day.
The final came around and I had a very unlucky and terrible start to my race. I made two mistakes that cost me dearly and dropped me back to dead last. Within five minutes I was half a lap behind the leader already. I knew I just had to put my head down and keep it consistent in the very difficult high-grip conditions out there. I was able to push my pit stops out to nine minutes and skipped having to do an extra stop. I crawled my way back to the front and battled with the leader towards the end of the race. I managed to get past and go on to take the win and the 2018 Queensland State Championship.
I was very happy with how good my package was and how I was able to fight my way back for the win after a difficult start. Thanks to all my supporters, and I look forward to my next race!
Products used
#80935 RC8B3.1 Nitro Team Kit
Photos courtesy of Kyle McBride. Thanks to Kyle McBride for this report.
---