Sizzling Victories for AE at Bring the Heat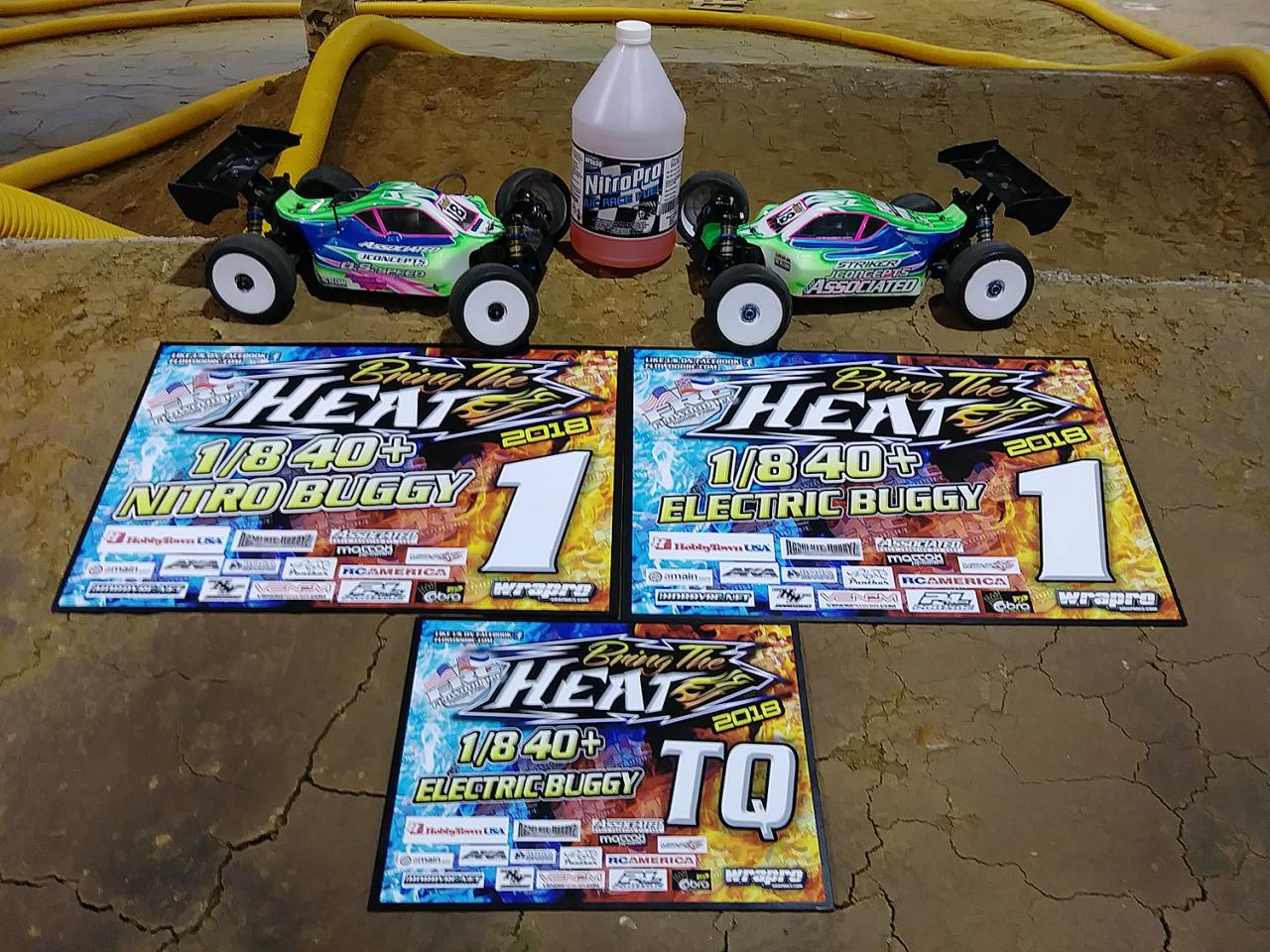 Bring the Heat at Flowood RC brought in 170+ entries and plenty of competition from Mississippi and surrounding states. Team Associated and Reedy drivers William Ables and Drew Spurgeon brought home some good finishes on the highly technical track.
Drew Spurgeon traveled from Arkansas to compete in the 40+ 1/8 Nitro Buggy and 40+ 1/8 Ebuggy classes with his Reedy-powered RC8B3.1 and RC8B3.1e. In Nitro Buggy, Drew had a few rough qualifiers and settled for a second-place starting position. In the main he battled early for the lead. After Drew gained the lead, he put in fast and consistent laps to take the win by an astonishing nine laps over second place!
For Ebuggy, Drew's RC8B3.1e was dialed from the beginning. He TQ'd rounds 1 and 2 for a overall top qualifying position for the triple A Mains. While leading A1 he made a small mistake that cost him the win by three seconds. In A2 and A3 Drew was on a mission and lapped the field in both mains to take the overall win.
Drew said, "I can't say enough about the AE cars and how amazing they are. I also love the team aspect; getting to help so many guys and have a great time while achieving great results. Thanks again for letting me be a part of the best team in the hobby."
William Ables is an FRC local and did a great job representing his home track. William put on a show in Etruggy with his RC8T3.1e. Top Qualifying all three rounds got William the first position for the triple A Mains. William transferred the energy to the mains and won A1 and A2 to take the overall win.
Honorable Mention goes out to privateer Graham Gonzalez for finishing second place in Pro Nitro Buggy with his new RC8B3.1!
Products used
#80935 RC8B3.1 Nitro Team Kit
#80936 RC8B3.1e Team Kit
#80938 RC8T3.1e Team Kit
#27008 Blackbox 850R Competition 1:8 ESC w/PROgrammer2
#27407 Sonic 877 Competition 1:8 Truggy Motor, 2000kv
#27406 Sonic 866 Competition 1:8 Buggy Motor, 2100kv
#27327 Reedy Zappers SG 5200mAh 110C 15.2V 4S LP
#27328 Reedy Zappers SG 6400mAh 110C 15.2V 4S High Capacity
#27107 Reedy RT2207A Digital HV Hi-Torque Aluminum Competition Servo
#27200 Reedy 1216-C2 Dual AC/DC Competition Balance Charger
Photos courtesy of Blake Boggs. Thanks to Blake Boggs for this report.
Team Associated - Champions by Design
---