AE scores 5-way sweep of the R.O.A.R. 1:10 Electric Offroad Nationals
Friday, Aug 24, 2018 at 12:00am CDT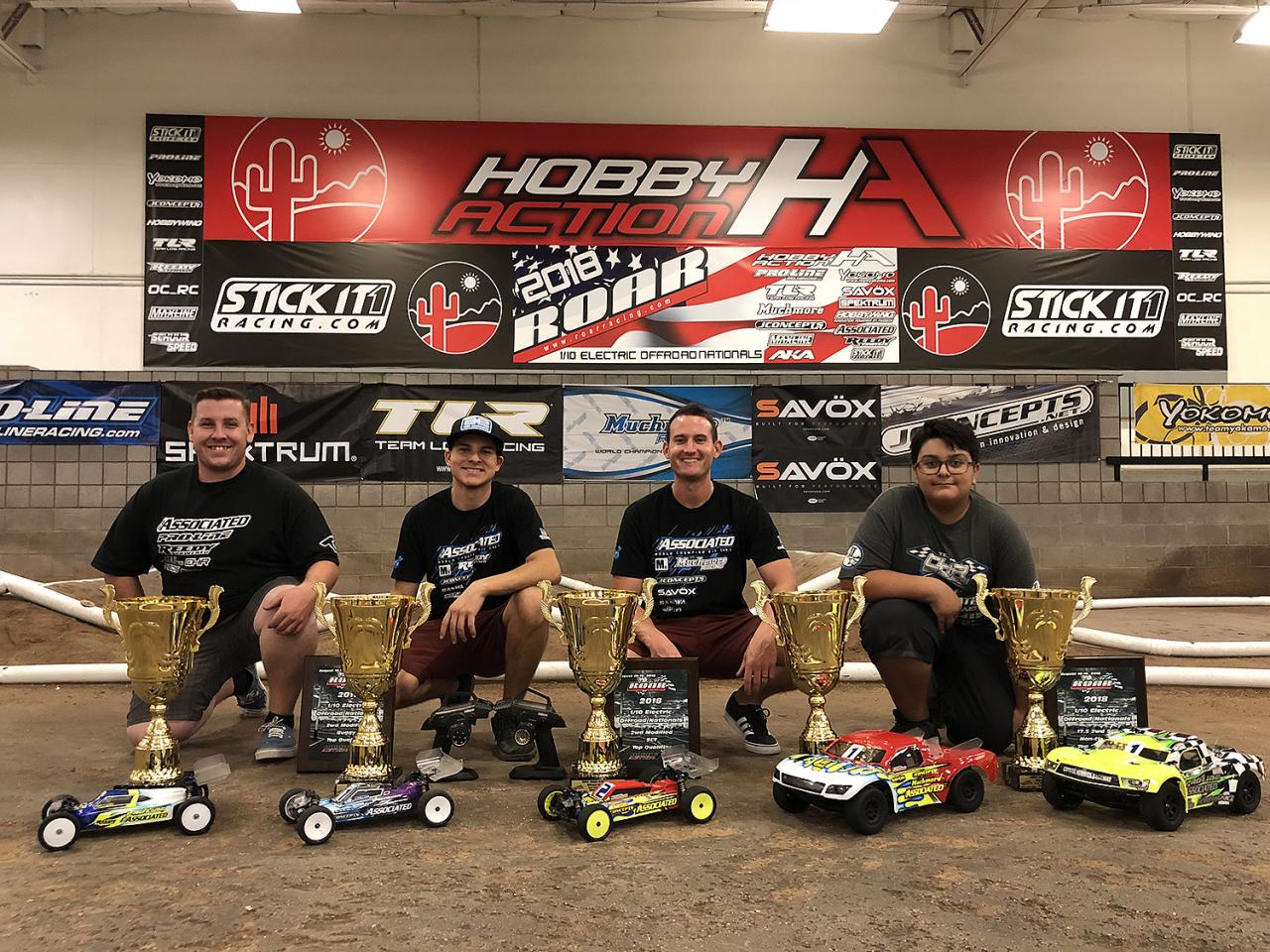 With eight titles on the line and racers competing for Team Associated in all the categories, the #WeAreAE team was well represented. The most coveted title of the weekend is always the 2WD Modified Buggy class where Team Associated/Reedy Power and hometown star, Spencer Rivkin, took the top qualifying position with his B6.1D and had a battle for the ages with teammate Ryan Cavalieri. In the end, Rivkin came home with the National Championship while Team Associated occupied the top four positions and seven of the ten A-Main spots.
In the 4WD Modified Buggy class, Reedy Power/Team Associated driver Dustin Evans put his B64 on pole position and got the A2 win, but it was the A1 and A3 victories that earned teammate Ryan Cavalieri the national championship. Again, it was Team Associated that had the most vehicles in the main event, securing half the field.
With the recent release of the SC6.1, this was the first major modified event that the truck has competed at and it took seven of the ten available A-Main positions with a lockout of the top five. It was again the team-mates of Cavalieri and Rivkin that battled for the victory, but this time they were joined by Austin Horne, who wanted a shot at the title. After the dust settled, it was Cavalieri who earned his unparalleled fifth consecutive title in 2WD Modified Short Course, Rivkin in second and Horne in third.
With the modified classes complete, the winning continued in the 17.5 categories. Team Associated/Reedy Power driver Austin Pannone went on to victories in A2 and A3 to win the 17.5 2WD Buggy title, while teammate Davey Batta took care of business early by winning A1 and A2 to take the 17.5 2WD SCT championship.
All in all, Team Associated brought home five National Championships at the event and had more vehicles in the A Mains than all other manufacturers combined. It was a very successful weekend for the team and privateers alike, where the #WeAreAE mentality was clearly on display. Congratulations to all the champions, and thanks to R.O.A.R. and Hobby Action for hosting the event.
Products used
#70007 RC10SC6.1 Team Kit
#90021 RC10B6.1D Team Kit
#90014 RC10B64 Team Kit
#27004 Blackbox 510R Competition ESC
#27402 Reedy S-Plus 17.5 Competition Spec Class Motor
#260 Reedy Sonic 540-M3 Motor 7.5 Modified
#272 Reedy 540-M3 Spec Rotor, 12.2 x 7.25 x 25.3
#27109 Reedy RT1408 LP Digital HV Hi-Torque Competition Servo
#27200 Reedy 1216-C2 Dual AC/DC Competition Balance Charger
#27225 US to IEC 320 C5 Angle AC Power Cord, .5m
#27323 Reedy Zappers SG 5800mAh 80C 7.6V Shorty
---