Team Associated Wins Six at Pro-Line Surf City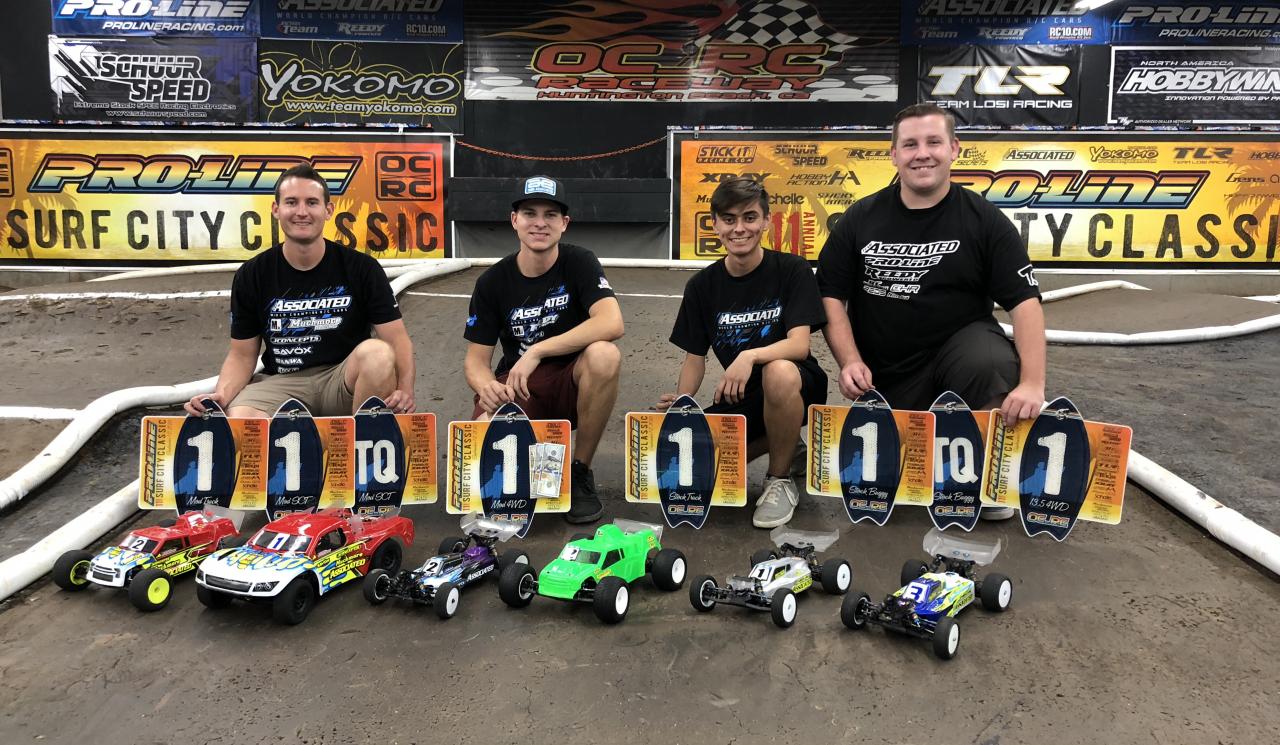 The 2018 Pro-Line Surf City Classic is now in its 11th year and is one of the more relaxed, "big" races of the year. Hosted by OCRC Raceway in Huntington Beach, CA, the event took place over Labor Day weekend, which unofficially marks the end of summer. Fresh off the R.O.A.R. Nationals just two weeks prior, Team Associated was in attendance to compete for the titles.
In the 4WD Modified Buggy class, Reedy/Team Associated driver Dustin Evans started on pole and had a great 10-minute race with teammate Spencer Rivkin, who made a last-lap pass to take the victory driving his B64.
In the Modified Stadium Truck class, Ryan Cavalieri barely held off the hard-charging efforts of teammates Dustin Evans and Broc Champlin to take a very close victory, all driving T6.1 trucks.
In the 2WD Modified Short Course class, TQ Ryan Cavalieri won in front of teammates Jake Mayo and Kyle Layton, all driving SC6.1 trucks.
The spec motor limit classes were dominated by Reedy drivers who took three of the four victories. In the 17.5 2WD Buggy class, TQ Austin Pannone drove away from the field, leaving Antonio Counsil and Matthew Gonzales' B6.1D cars to battle it out for the remaining two podium spots. In 13.5 4WD Buggy, Austin Pannone again found his way to the front and won ahead of fellow B64 driver Antonio Counsil. 17.5 2WD Stadium Truck was one of the best races of the weekend, which came down to TQ Matthew Gonzales barely holding off the competition on the last lap to take the victory with his T6.1.
The crew from OCRC ran an efficient event with a challenging track that produced some great racing. All in all, the Pro-Line Surf City Classic continues to be one of the most competitive and relaxed events on the calendar and will continue to grow as a staple on the race calendar.
Products used
#90022 RC10B6.1 Factory Lite
#90014 RC10B64 Team Kit
#70002 RC10T6.1 Team Kit
#70007 RC10SC6.1 Team Kit
#27004 Blackbox 510R Competition ESC
#27322 Reedy Zappers SG 4800mAh 110C 7.6V Shorty
#27323 Reedy Zappers SG 5800mAh 80C 7.6V Shorty
#27402 Reedy S-Plus 17.5 Competition Spec Class Motor
#27403 Reedy S-Plus 13.5 Competition Spec Class Motor
#264 Reedy Sonic 540-M3 Motor 5.5 Modified
#27200 Reedy 1216-C2 Dual AC/DC Competition Balance Charger
#27109 Reedy RT1408 LP Digital HV Hi-Torque Competition Servo
#27101 Reedy RT1508 Digital HV Hi-Torque Competition Servo
---