AE/Reedy Powered wins all 2WD classes at the Victorian Drivers Series final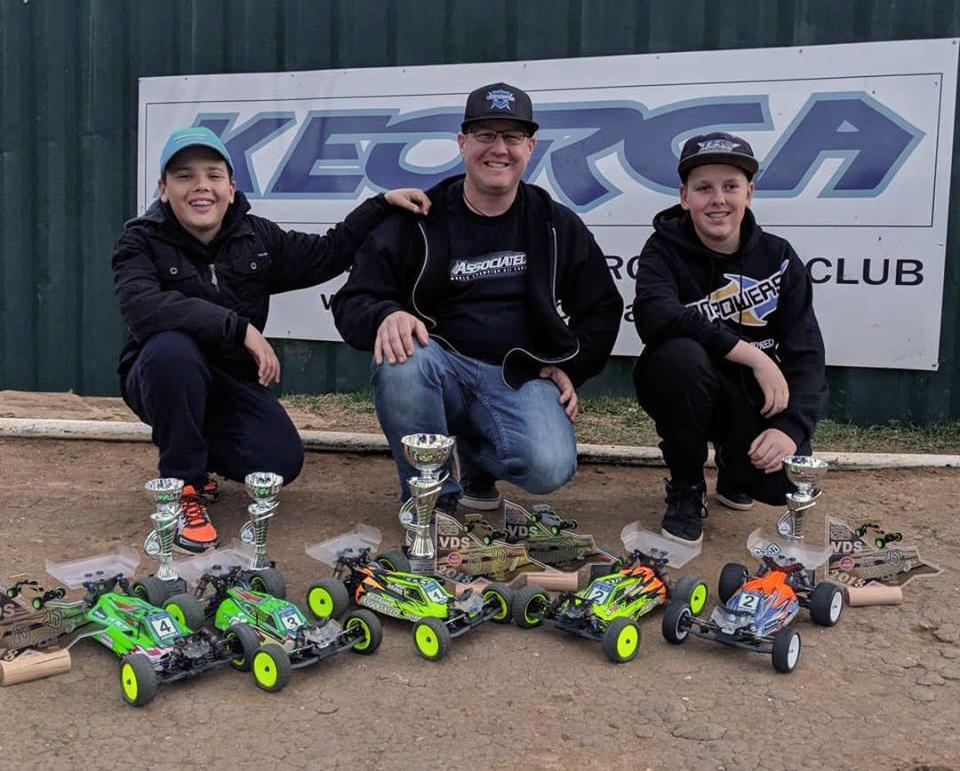 AE buggies took victories in all 2WD classes of the 2018 Victorian Drivers Series following the fourth and final round. Held at the Keilor club in Melbourne, Australia, this event was held in memory of Mark Polistena, the life member and long-standing president of the club who passed away in 2017 from illness. 160 entries were received with a fantastic vibe at the event, which honoured the sportsmanship and love of RC that Mark showed. The Series consisted of four rounds held at different tracks around Victoria. All of the tracks were outdoor dirt.
2WD Modified
AE/Reedy factory driver Ray Munday TQd with his Reedy Powered B6.1D, closely followed by AE young guns Jordan Isergin (13 years old) and Lachlan Munday (12 years old). Ray took A1 and A2 for first place overall, with Jordan taking a popular A3 win for second overall and Lachlan taking third overall for a B6.1D clean sweep of the podium!
Despite missing the first round of the series, this allowed Ray to take the 2018 Series win, defending his 2WD title. Jordan Isergin took third place in the series.
4WD Modified
TQ was taken by multi-time national champ Matt Griffin with his B64D after a break from 1:10 racing. He took A1 after a very close battle with Ray Munday. A2 was taken by Lachlan Munday after a last lap pass on Matt. After A3, Matt took the win, with Lachlan Munday joining him on the podium in third, which also gave Lachlan third overall in the drivers series. Ray tied for first in the series, finishing second on countback after missing round 1.
2WD 17.5
Ben Howard took the drivers series in the hugely popular 2WD 17.5 class with his B6D, narrowly missing victory in the class at this event.
Junior 17.5
The Junior class (2WD Buggy 17.5T, under 16 years old) has been hugely successful in Victoria, with 17 entries for this event. AE buggies were used by all of the A finalists, with the Camillieri brothers Claude and Camden successfully debuting their B6.1Ds, with Claude taking TQ and Camden finishing first in the finals. Shelby 'the Floss Queen' Bloss took third with her B6.1D, one of four girls racing in the class at the event. This gave Camden first in the drivers series from Claude and Shelby third.
2WD 21.5
Completing the sweep of 2WD classes for AE, Dale Brown took TQ and the win in this class with his B6D, also taking the 2018 series title.
Congratulations to all of the winners and thanks to all of the volunteers and racers who make great series like these possible!
Products used
#90021 RC10B6.1D Team Kit
#90015 RC10B64D Team Kit
#90012 RC10B6D Team Kit
#27004 Blackbox 510R Competition ESC
#260 Reedy Sonic 540-M3 Motor 7.5 Modified
#27323 Reedy Zappers SG 5800mAh 80C 7.6V Shorty
#27200 Reedy 1216-C2 Dual AC/DC Competition Balance Charger
#27100 Reedy RS1206 Digital HV Hi-Speed Competition Servo
Photos courtesy of Ray Munday. Thanks to Ray Munday for this report.
Team Associated - Champions by Design
Check out our Factory Team Spotlights!

---