Sturdy and Munday win Australian 2WD and 4WD with AE/Reedy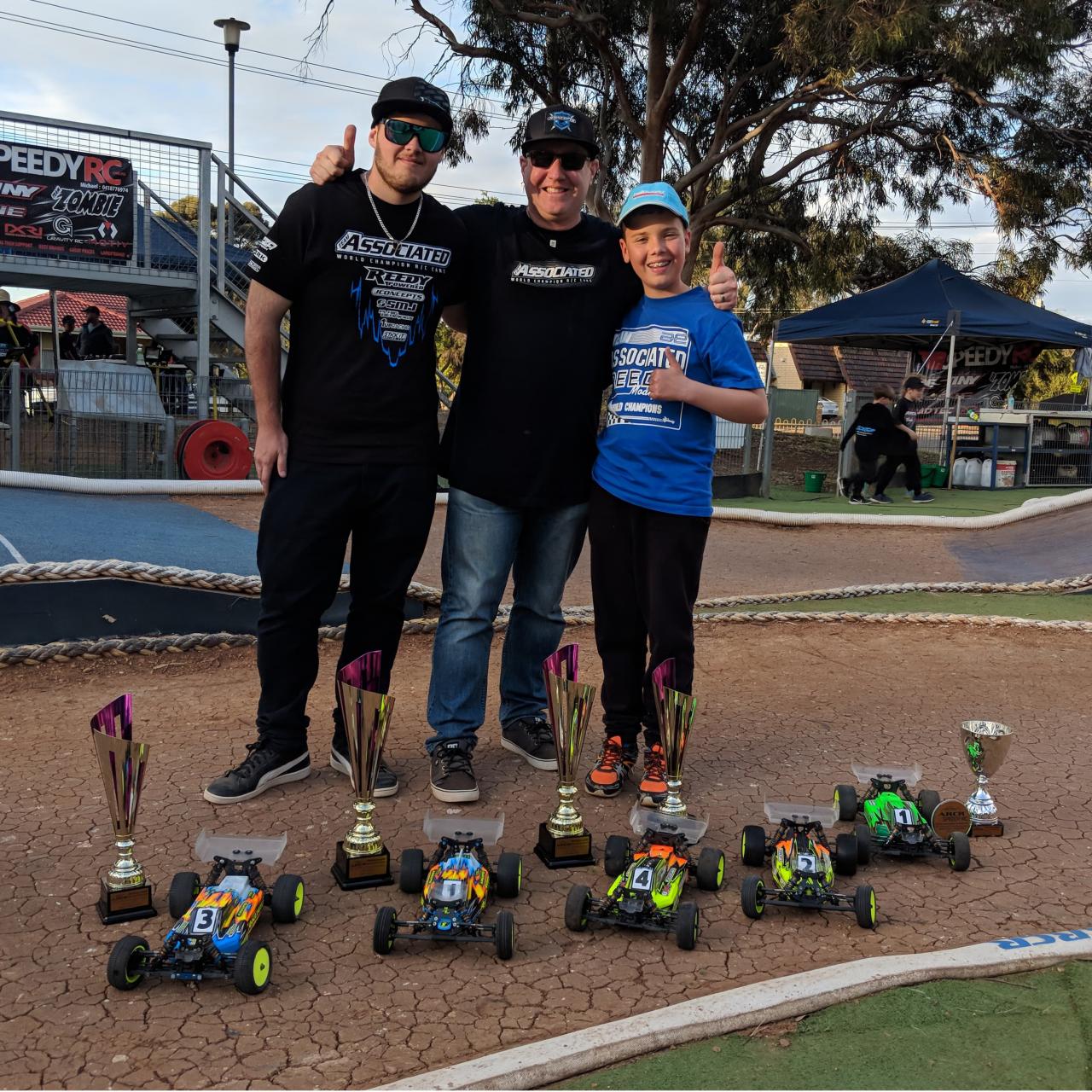 Team Associated and Reedy dominated the modified buggy classes at the 2018 Australian National Titles, with Chris Sturdy (2WD) and Ray Munday (4WD) taking out the titles after an intense few days of racing. The event was held at the Adelaide Raceway in South Australia, with over 150 entries racing on the beautifully prepared outdoor clay track.
2WD Modified: Chris Sturdy dominated the 2WD class, taking out all four qualifiers for TQ and then winning A1 and A2 to defend his 2017 title with his Reedy Powered B6.1D. This is Chris's 6th national title! Ray qualified second and won A3 for second overall, and local privateer Jack McMillan rounded out the podium with his B6.1D after a great performance in the finals. B6.1D buggies were used by nine out of the top ten places in the A Main!
4WD Modified: Big surprise of the event was junior racer Lachlan Munday taking TQ with his Reedy Powered B64D. The three A finals were very intense on the track, with the experience of Sturdy and Ray Munday coming through. Sturdy took A1 and was unfortunate not to win A2 after a late collision. Ray took A2 and A3 to seal the title, with Sturdy second overall and Lachlan Munday finishing fifth.
AE junior racers starred at this event, with Lachlan Munday (12), Jordan Isergin (13), Lachlan Donnelly (14), and Brayden Johnston (15) all making modified A mains, a fantastic achievement at this level. Watch out for their names in the future!
It wasn't just the modified A finals where AE products were victorious. In the hyper-competitive 2WD 17.5 class, Ben Howard took TQ with his B6D, narrowly missing the title and finishing second. In the 2WD Junior category, the B6.1D was the overwhelming vehicle of choice with 1-2-3 going to Jayden Edmunds (TQ), followed by Camden Camilleri and Cameron Couper. Finally, the SCT class was taken out by 14 year-old Troy Milton, another future star.
Thanks to the Adelaide club for putting on a fantastic event!
Products used
#90021 RC10B6.1D Team Kit
#27004 Blackbox 510R Competition ESC
#260 Reedy Sonic 540-M3 Motor 7.5 Modified
#264 Reedy Sonic 540-M3 Motor 5.5 Modified
#27323 Reedy Zappers SG 5800mAh 80C 7.6V Shorty
#27200 Reedy 1216-C2 Dual AC/DC Competition Balance Charger
#27100 Reedy RS1206 Digital HV Hi-Speed Competition Servo
#27108 Reedy RS0806 LP Digital HV Hi-Speed Competition Servo
Setup Sheet



Photos courtesy of Raymond Munday. Thanks to Raymond Munday for this report.
#WeAreAE
---