Lachlan Munday leads AE podium sweeps in West Australian State Titles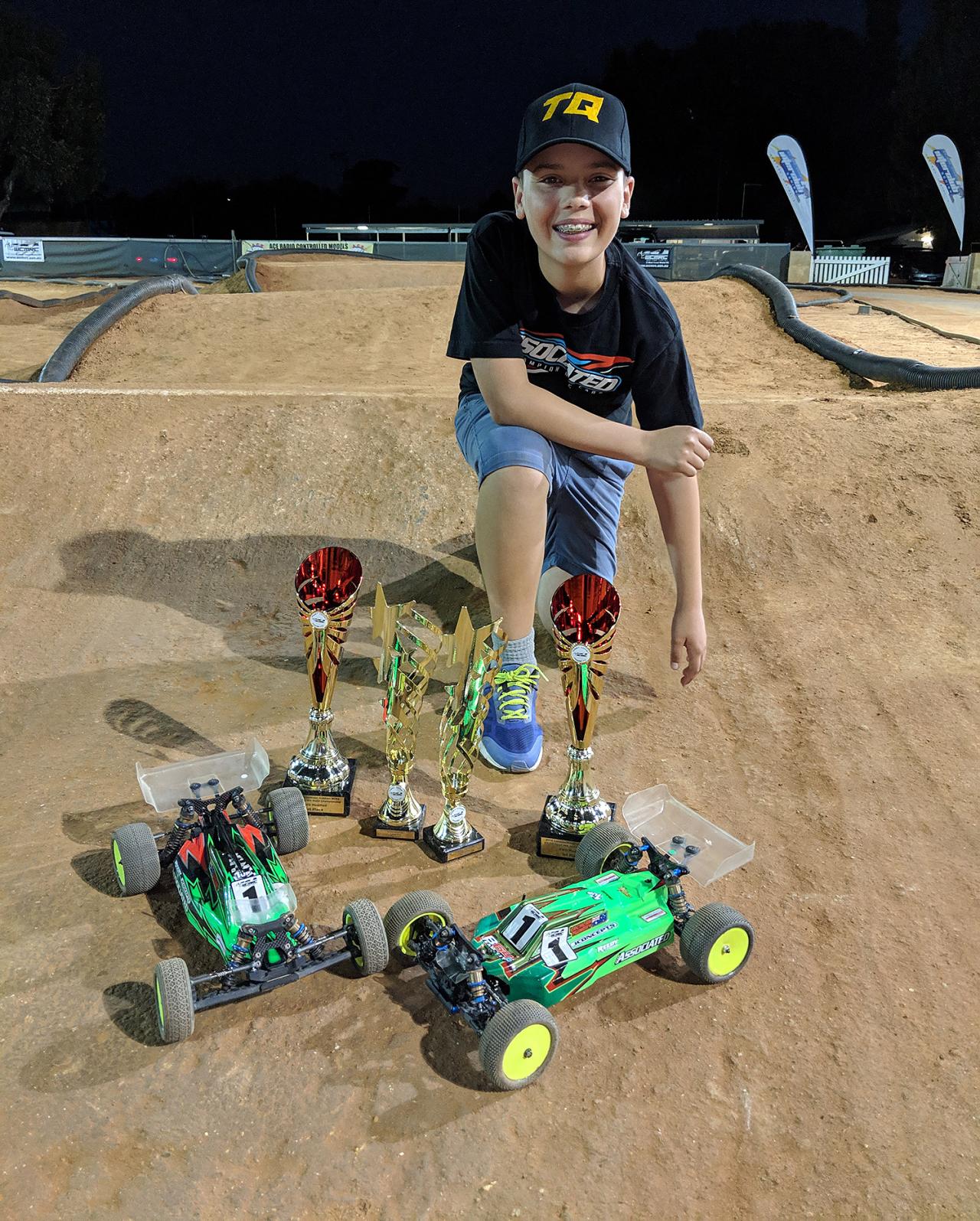 Team Associated/Reedy Power youngster Lachlan Munday took the 2WD and 4WD Modified classes at the 2019 Western Australian Titles. Team Associated vehicles led a clean sweep of the podiums in both modified classes!
117 entries were received for the weekend event, which was held at the newly refurbished West Coast Model RC club in Perth. The club prepared a fantastic outdoor dirt track with a fast straight, large jumps, a technical ess section, and many elevation changes, which resulted in many moments of exciting racing. The club worked hard to complete a new world-class drivers' stand for the race.
2WD Modified: 13-year-old Lachlan Munday was dominant, taking wins in all four qualifiers and the first two A finals with his Reedy-powered B6.1D to claim his first state title in the modified class! The B6.1D took a sweep of the podium, with Kyle Francis taking second and Chris Mitchell third.
4WD Modified: 4WD was a continuation of 2WD, with Lachlan again taking TQ in three out of four qualifiers and winning all three mains to seal a double victory with his Reedy-powered B64D. Finishing in second was Andrew Selvaggi (Reedy/B64D) and Chris Mitchell in third, to make it another Team Associated podium sweep!
Team Associated vehicles had strong results in other classes, with Brayden Miller taking both 2WD 17.5 (B6.1D) and 2WD SCT with his Team Associated vehicles. Brayden Johnston celebrated his 16th birthday by taking a close second place in the EP8 class with his RC8B3.1e buggy.
Products used
#90021 RC10B6.1D Team Kit
#90015 RC10B64D Team Kit
#80936 RC8B3.1e Team Kit
#70007 RC10SC6.1 Team Kit
Reedy Products used
#27004 Blackbox 510R Competition ESC
#260 Reedy Sonic 540-M3 Motor 7.5 Modified
#264 Reedy Sonic 540-M3 Motor 5.5 Modified
#27200 Reedy 1216-C2 Dual AC/DC Competition Balance Charger
#27100 Reedy RS1206 Digital HV Hi-Speed Competition Servo
#27108 Reedy RS0806 LP Digital HV Hi-Speed Competition Servo
Photos courtesy of Raymond Munday. Thanks to Raymond Munday for this report.
#WeAreAE
---