Four Wins for Team Associated and Reedy at 31st Annual April Fools Classic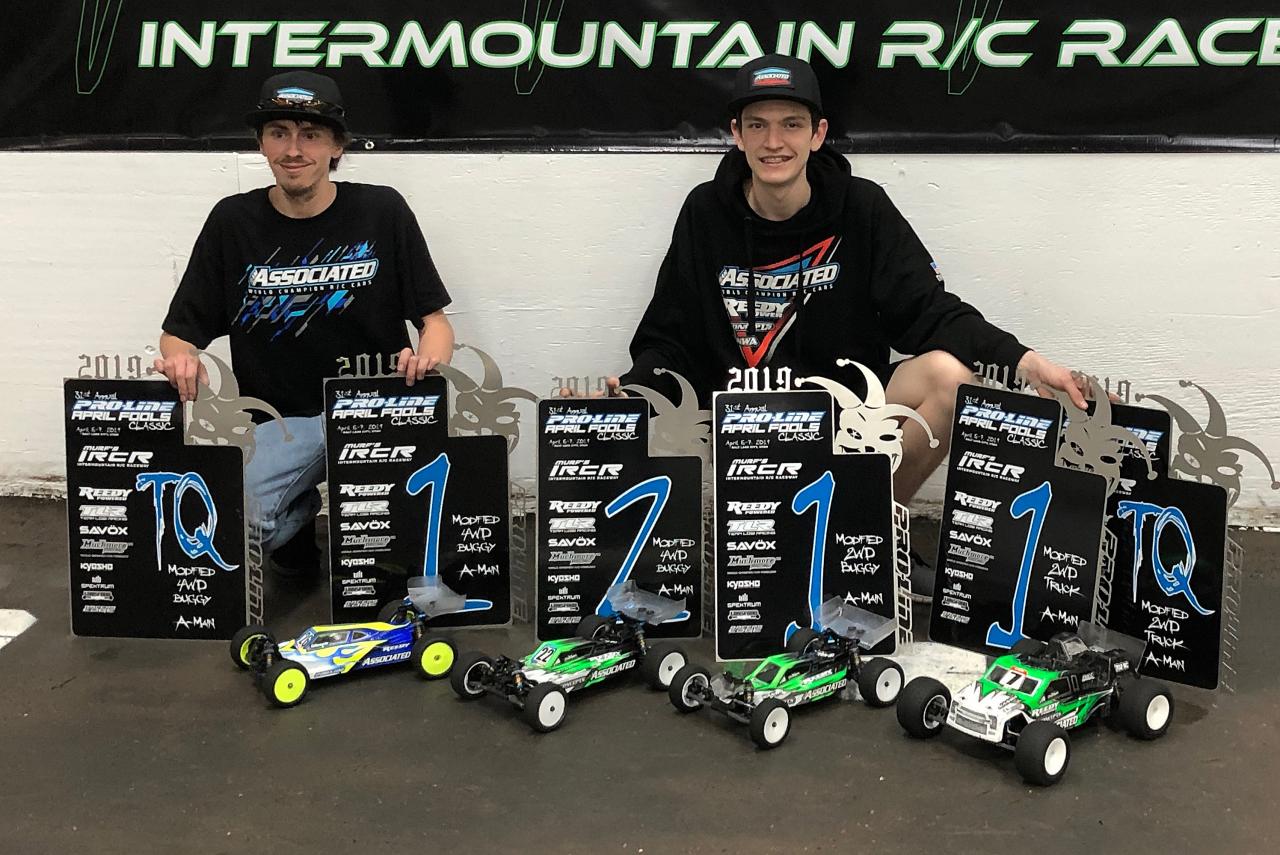 For the 31st year in a row the April Fools Classic was held in Salt Lake City, Utah. The historic event is one of the longest-running races in the nation and continues to bring racers from all over the country to the "Greatest Dirt on Earth."
In the modified classes it was the duo of Broc Champlin and Rob Gillespie Jr. who took home the wins. Broc claimed the 2WD Modified Buggy and 2WD Modified Truck wins while Rob got the victory in 4WD Modified Buggy. Joining them with victories for Team Associated and Reedy was up-and-coming racer from Arizona, Ezra Keller in the 13.5 4WD Buggy class.
Congratulations to the other podium finishers on a great weekend and head over to Broc's and Rob's social media accounts for more information from the event. #WeAreAE
Products used
#90014 RC10B64 Team Kit
#90021 RC10B6.1D Team Kit
#70002 RC10T6.1 Team Kit
#260 Reedy Sonic 540-M3 Motor 7.5 Modified
#264 Reedy Sonic 540-M3 Motor 5.5 Modified
#27004 Blackbox 510R Competition ESC
#27027 Blackbox PROgrammer 2
#27028 Blackbox 30x30x7 mm Fan, w/screws
#27101 Reedy RT1508 Digital HV Hi-Torque Competition Servo
#27112 Reedy RS1306 LP Digital HV Brushless Servo
#27200 Reedy 1216-C2 Dual AC/DC Competition Balance Charger
#27313 Reedy LiPo Pro TX/RX 2400mAh 7.4V Flat
#27335 Reedy Zappers SG2 4800mAh 110C 7.6V Shorty
#27336 Reedy Zappers SG2 5800mAh 80C 7.6V Shorty
#27423 Reedy HV Motor Fan, with 195 mm extension
#WeAreAE
---